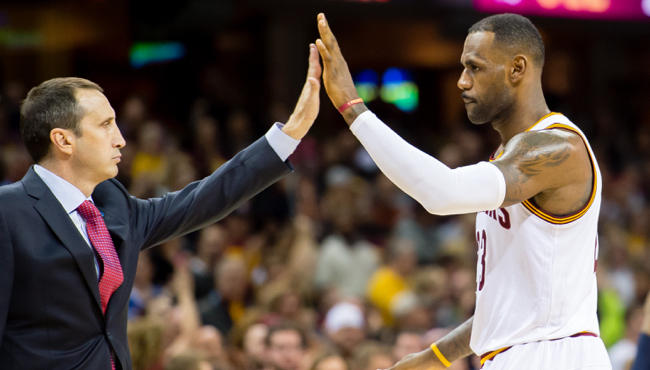 The David Blatt era, though short lived in Cleveland, was never short of drama. Blatt accepted the job in Cleveland before LeBron James made his decision to return home, and the two never quite got on the same page. The Cleveland team Blatt agreed to coach was supposed to be on the rise with a young core of Kyrie Irving, Andrew Wiggins and Tristan Thompson. But once LeBron arrived on the scene, expectations and team dynamics took an unfavorable turn for ousted former coach.
LeBron is quite possibly the smartest player in the NBA. Taking orders from Blatt, who had never coached or played at the NBA level, was always going to be a tall order for him — particularly when combined with Blatt's often-prickly personality. Regardless, the Cavs made the NBA Finals in Blatt's first season and had the top record in the Eastern Conference when he was terminated and assistant coach Tyronn Lue took over.
Blatt did steer the Cavs through training camp and the first half of last season, so when the organization approached him about receiving a championship ring for his efforts, he accepted. When Lebron was asked about Blatt receiving a ring, King James gave an answer that parallels his up-and-down relationship with his former head coach:
"That's an organizational thing and if that's what they wanted to do then we're all for it. Who am I to say who can or can't get a ring?"
Whenever Blatt texts, LeBron probably asks "Who dis?" They might share a weird moment during a somewhat awkward ring ceremony and go their separate ways, or they might not ever really acknowledge each other unless prompted to do so.
(Via Cleveland.com)