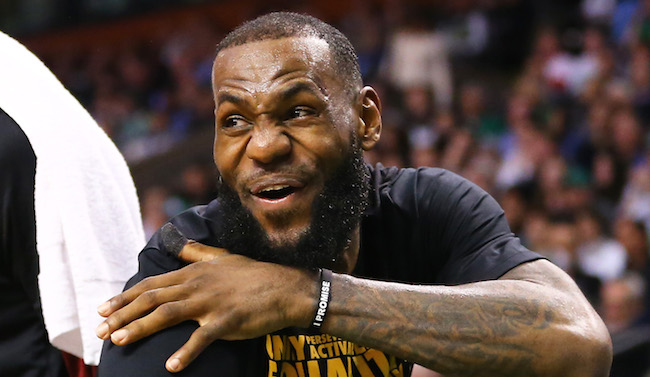 LeBron James did a whole bunch of LeBron James stuff on Tuesday night, filling up the stat sheet and leading the Cleveland Cavaliers to a 129-123 victory over the Brooklyn Nets. James had a game-high 31 points to go along with 12 rebounds and 11 assists, doing a little bit of everything to help the Cavs beat a pesky Nets squad.
After the game, James made his way into the locker room and threw on the Miami Heat game, ostensibly because he learned that his pal Dwyane Wade had turned back the clock and started going off. Wade had 27 points, 15 of which came in the fourth quarter, to Miami pick up a 102-101 win over Philadelphia.
Wade won the game for the Heat with a jumper with 5.9 seconds left in the fourth quarter. It was the latest in a long line of unforgettable moments Wade has created in Miami. It also happened while Rodney Hood was trying to talk to the media in Cleveland, but unfortunately for him, he got interrupted by James screaming in the background.

Hearing everyone in the locker room laugh because James started joyously cussing was just tremendous. Hood had a nice night — he scored 14 points in 31 minutes, including a go-ahead shot late in the fourth — even if it got briefly interrupted while he was talking to the press.