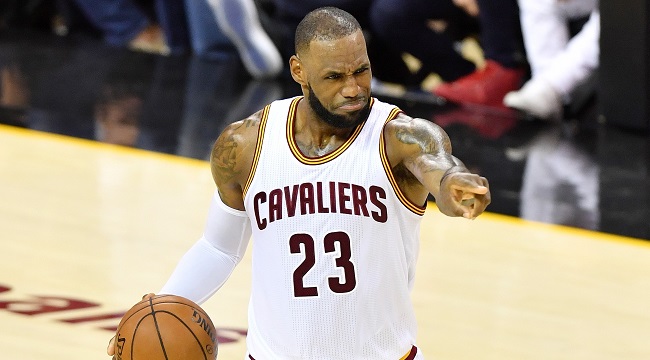 The Cleveland Cavaliers entered Sunday evening's game against the Boston Celtics as 17-point favorites. For the uninitiated when it comes the sports betting, that is a crazy number that illustrates just how unlikely it was that the Celtics were able to go into Cleveland, without Isaiah Thomas, and emerge victorious in Game 3.
Part of the perfect storm that occurred was the uninspired and, frankly, strange play of LeBron James. While the Cavs were still +1 in his 45 minutes of play, James finished the game with just 11 points (on 4-of-13 shooting), six rebounds and six assists, and he committed six turnovers in the process.
As you may expect, that type of performance did not sit well with the best player in the world and it resulted in an awkward exchange during James' postgame press conference. After being asked a relatively anonymous question about his less than stellar play, James went after the reporter, Kenny Roda of 1480 WHBC in Cleveland, about his presence.
https://twitter.com/BenGolliver/status/866503653762498560
"Nah, I was just pretty poor. I mean, what do you want me to say? It seems like you only ask questions when we lose. There's this weird thing with you, Kenny. You always come around when we lose, I swear."
Roda did not seem to enjoy what James had to say and he responded as such on Twitter.
https://twitter.com/TheKennyRoda/status/866513735988518914
In the grand scheme, this is a relatively harmless back-and-forth but it is slightly out of character for James. There could be a relationship there that the general public is not aware of but, in the same breath, it probably isn't the best look for LeBron to act in this fashion after playing his worst postseason game in quite some time.
It seems like a safe bet to suggest that LeBron James will play better in Game 4 and, after the game, we'll see if Kenny Roda reappears.