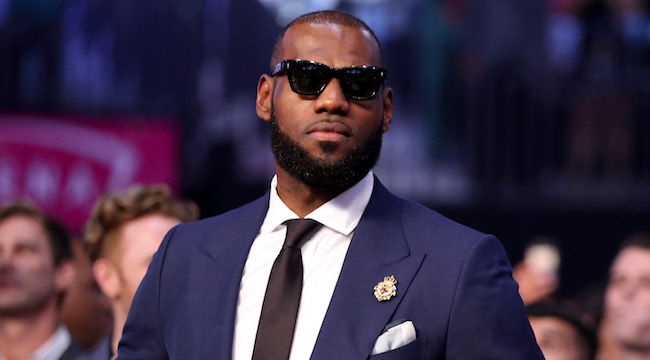 LeBron James has enjoyed a very interesting summer and it certainly isn't over with the stalled status of the deal that would flip his "old" point guard, Kyrie Irving, for his "new" point guard in Isaiah Thomas. Beyond the off-court drama of the 24-hour NBA news cycle, James is also reportedly "obsessed" with improvement and the best player on the planet is seemingly quite focused on claiming the 2018 NBA Championship.
However, James apparently isn't busy enough to avoid a controversial meal with a top-flight high school player that also happens to be a potential top-five pick in the 2019 NBA Draft.
TMZ captured James long enough to prompt him (fruitlessly) about the potential of his free agency taking him to Los Angeles or New York in 2018. However, Gary Parrish of CBS Sports unearthed that, near the beginning of the video, it is clear that James is emerging from a restaurant with both his agent, Rich Paul of Klutch Sports, and high school basketball star Cameron Reddish.
Multiple industry sources confirmed to CBS Sports that, yes, that's James' agent, Klutch Sports Group founder Rich Paul, in the white hat, and Cameron Reddish, a consensus top-five high school prospect in the Class of 2018, in the gray and black hoodie. So it's reasonable to assume they had just had lunch together in Brentwood. Or, at least, they had a cup of coffee or tea or something.
Parrish points out that, under NCAA rules, the lunch meeting isn't some sort of violation "as long as the agent isn't providing a benefit to the prospect — and the prospect hasn't agreed to be represented by the agent." Whether that could actually be proven is another can of worms altogether but the simple image of James, Paul and an amateur athlete dining in Brentwood isn't an ideal one in many ways.
There have been plenty of whispers about James and his relationship with Klutch Sports. In short, this isn't going to alleviate those concerns. For now, this is more of a funny "caught on camera" moment than anything else but it certainly won't keep the spotlight off Reddish as he enters his senior season in high school.
(Via CBS Sports)