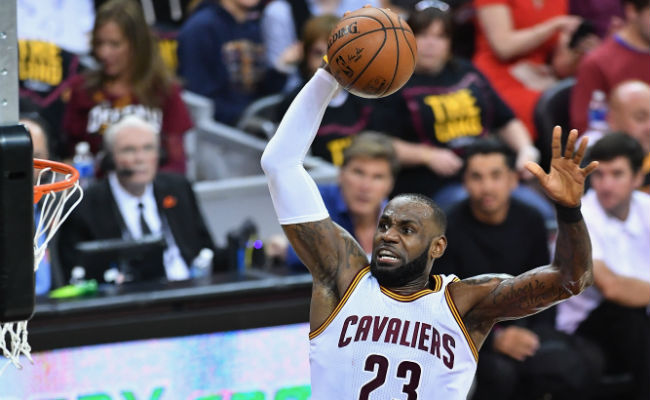 In an NBA Finals Game 4 that featured so many thrilling and memorable moments, perhaps the most striking is LeBron James' self alley-oop in the second quarter. In fact, James himself remembered that play quite well in postgame.
James explained what happened when he threw his own pass to himself off the backboard for a dunk during the first half of Cleveland's blowout win over the Golden State Warriors on Friday night.
When asked by reporters about the play, he admitted the play was intended to be a pass to Kyle Korver that never materialized.
https://twitter.com/sinow/status/873407471095828484
While Stephen Curry can't seem to remember why he's constantly doing squats on the Cleveland court, James recalled with perfect clarity exactly what was happening on the play.
I think it was a transition play and I believe it was Kyle on my right side that was running the wing. Two of their players were back and I was trying to engage one of them so I can get Kyle a shot in the corner, and they both went to Kyle I believe. And I got caught in the air, so that's the only thing I can think of.

I didn't want to travel. And Draymond was kind of playing Double T (Tristan Thompson). Double T kind of had his back towards me so I just threw it off the glass and went up and got it.

J.R. Smith, meanwhile, has his own explanation for how James was able to pull that move off.
It was a stunning play that—though perhaps not intentional—highlighted the absurdity of the first half performance Cleveland put on. Its record-setting first quarter blew Golden State out in a way they simply haven't seen this postseason, extending the playoffs at least one game and taking the series back to Golden State.
Cleveland has a long way to go, but if James is allowed to pass to himself like that in Game 5, Golden State could be in trouble once again.