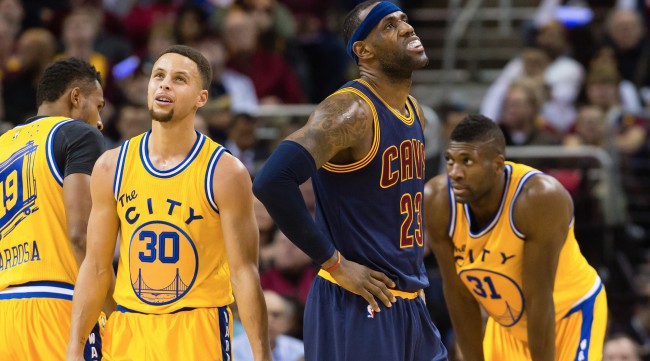 Did you hate math growing up? Are you from Cleveland?
Yes? And yes? Then you might appreciate this new shirt, courtesy of Kingdom Apparel Inc.:
The shirt is fine, even if it does allege that 23 is, in fact, greater than 73. We get it. You're intentionally defying the rules of which numbers are higher than others. LeBron James, who wears No. 23, is so exceptional that he can make 23 greater than 73, the number of wins the Warriors had this year.
The real juiciness here, though, is in the description on the Kingdom Apparel website:
All season long, the talk around the league has been all about that team out West. 73 wins in the regular season is the most ever-a great accomplishment.

But here in Ohio, we've got a number of our own: 23! Cleveland is ready to win this post-season! "In Northeast Ohio, nothing is given. Everything is earned." Show off your Cleveland pride with this shirt that says it all. "Greatness is defined in June" Cheer on the city as Cleveland fights for greatness this June.
"In Northeast Ohio, nothing is given. Everything is earned," is, of course, the most well-known quote from James' letter penned for Sports Illustrated when he announced his return to Cleveland in 2014.
Of course, that quote means the exact opposite of what the shirt says: That a given number is greater than 73 earned wins. But whatever. It's a fun shirt, anyway.