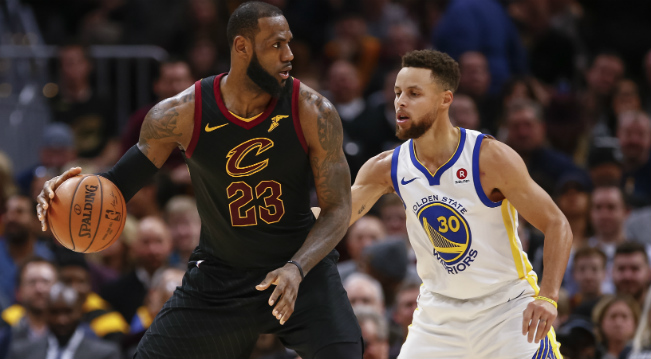 Barring a player pulling out of the game, we now know the exact squads for the 2018 NBA All-Star Game. The full roster of All-Star selections were announced on Tuesday, but because of the change in format that moved away from the traditional East vs. West matchup, we had to wait two extra days for the team captains to draft their squads.
Captains LeBron James and Steph Curry, who admitted after the fact that the selection of rosters should have been televised, hopped on a conference call to pick their teams for the festivities in Los Angeles next month.
The rosters were announced a few hours after the teams were selected on Thursday afternoon, as the Inside the NBA crew unveiled who will suit up for James and Curry prior to the tipoff of Oklahoma City-Washington.
Here are the full rosters:
TEAM LEBRON
LeBron James
Kevin Durant
Anthony Davis
DeMarcus Cousins
Kyrie Irving
Bradley Beal
LaMarcus Aldridge
Kevin Love
Russell Westbrook
Victor Oladipo
Kristaps Porzingis
John Wall

TEAM STEPH
Steph Curry
James Harden
DeMar DeRozan
Giannis Antetokounmpo
Joel Embiid
Damian Lillard
Jimmy Butler
Draymond Green
Kyle Lowry
Klay Thompson
Karl-Anthony Towns
Al Horford

To the surprise of no one, there are some really cool things that popped up during the player selection. Curry got his hands on three of the four members of the Warriors in the game, with only Durant joining James' team. Meanwhile, James will be reunited with Irving after the drama of their breakup in Cleveland. Oh, and on the subject of strange breakups, Durant and Westbrook will be All-Star teammates for the second year in a row since Durant left Oklahoma City for Golden State.
We have a little more than three weeks until these two squads will take the floor at Staples Center and put on a show, and while the All-Star Game has a reputation for being high scoring to the point of being boring, maybe the new format with teams being broken down like this can change that a little.