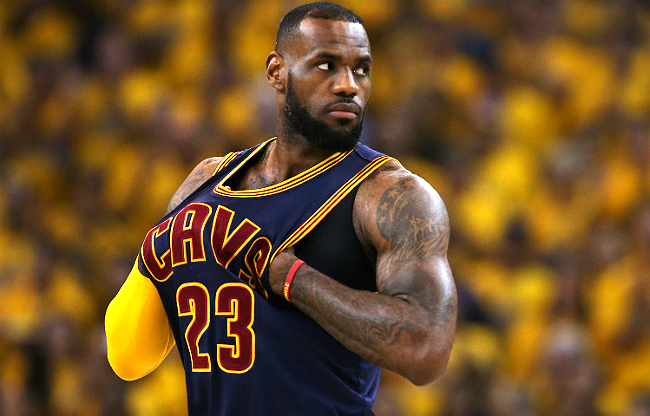 OAKLAND — Iman Shumpert took a useless dribble between his legs and passed backward to the world's greatest player. With five seconds left on the shot clock and afforded rare breathing room even so far away from the basket, LeBron James caught the ball and rose to shoot from 34 feet.
And suddenly, the Cleveland Cavaliers led by one midway through the fourth quarter of Game 5. But that was the last real threat James' team would pose to the Golden State Warriors.
Led by Steph Curry's 37 points, the Warriors beat the Cavaliers 104-91 on Sunday night to take a 3-2 lead in the NBA Finals. Draymond Green, Andre Iguodala, Leandro Barbosa, and Klay Thompson all scored in double-figures for Golden State, which used its overwhelming depth to withstand yet another herculean performance from James: 40 points, 14 rebounds, and 11 assists in 45 minutes of play.
Against a team like this, though, record-breaking numbers and unprecedented individual burden alone likely won't be enough. And that fact was never more obvious than when Golden State stole Cleveland's best hope immediately after James so emphatically provided it.
Curry responded to his counterpart's go-ahead bomb by jogging the ball up the floor. He took a screen from Iguodala and proceeded to dance on Matthew Dellavedova. When the Cavaliers' breakout star finally gave him the smallest amount of space, Curry stepped back behind the arc and let fly.
Warriors by two. Curry family engaged.
Following a James miss on the ensuing possession, Curry passed back to Green after receiving a drag screen and continued toward the right wing. He took a hard vertical cut and ran into Shumpert, setting a pin-down for Thompson as Dellavedova stuck to his hip. Of course, that's all the space Klay needed.
Golden State up five. Timeout Cleveland.
James, naturally, wasn't quite finished. He scored on the block to make it 85-82 moments later, then drove baseline and dropped a slick bounce pass to Tristan Thompson for an easy two. But the lead James gave the Cavaliers just over two minutes prior would be their last, as Curry's hand got even hotter in the game's final minutes.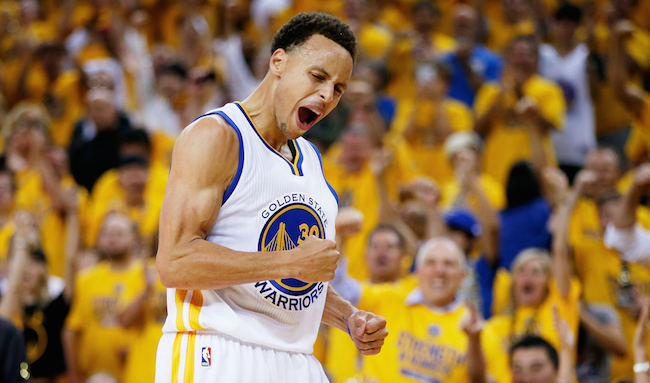 Both superstars lived up to that billing and then some on Sunday night. James did all he possibly could to help Cleveland win another game in Oakland, and Curry made sure it wouldn't happen by scoring 17 points in the fourth quarter, including a 29-foot dagger that put Game 5 away for good with 1:22 remaining.
"Sometimes you've got to take your hat off to the other guy," Cavaliers coach David Blatt said. "He made some tremendous shots."
Warriors coach Steve Kerr was even more effusive in his praise of James.
"I wonder how to stop him," he said. "But he's going to attack. He's going to have the ball in his hands almost every play particularly with Kyrie out, and that's the trick, right?  How do you slow him down?  How do you keep him from dominating the game?  Scoring himself or finding three-point shooters?  And there is a balance in there somewhere that we're trying to find, and it's pretty hard."
Luckily for Kerr, though, his team doesn't have to limit James' influence to win a championship. Despite mind-boggling averages of 36.6 points, 12.4 rebounds, and 8.8 assists per game from their opponent's best player, the Warriors could be hoisting the Larry O'Brien Trophy in Cleveland on Tuesday night.
Blatt and the Cavaliers don't have the same luxury when it comes to Curry. Cleveland's means to victory are remarkably narrow without Kevin Love and Kyrie Irving.
It's no coincidence LeBron and company needed overtime to win Game 2, and the clock to run out on Curry's last-ditch comeback bid to take Game 3. For so much talk several days ago that the Cavaliers were close to being up 3-0, a far more plausible scenario is that this series could already be over, just like so many predicted before it began and even more simply assumed once Irving's knee finally failed him late in Game 1.
And if Kerr had shortened his rotation and adopted small-ball full-time before last Thursday, it likely would be. Blatt adjusted to the Warriors' adjustment on Sunday night, playing Timofey Mozgov just nine minutes and employing a super-small unit of his own during a crucial second quarter stretch that helped Cleveland build a lead.
It speaks volumes of the Cavaliers' circumstances that Blatt felt benching a player coming off a career game of 28 points and 10 rebounds gave his team the surest chance to win. There's far more context necessary than box score stats or on-paper logic to understand that hot-button decision, though, and Golden State's eager and successful double-teams of the hulking Russian in the opening minutes of Game 5 is just one crucial aspect that falls under that umbrella. Blatt will face surface-level criticism of the same ilk between now and Tuesday night for leaving Thompson on the bench as Cleveland intentionally fouled Iguodala late in the fourth quarter and failed to corral his misses.
But that inevitably harsh judgement will mostly ignore the issue from which all of it stems in the first place: The Cavaliers are undermanned and playing against the best team in basketball. Blatt only has so many buttons to push with such a depleted roster at his disposal. He deserves immense credit for guiding Cleveland to this point via an occasionally dominant defense and patchwork offense that gives the game's best player an opportunity to shine the way only he could.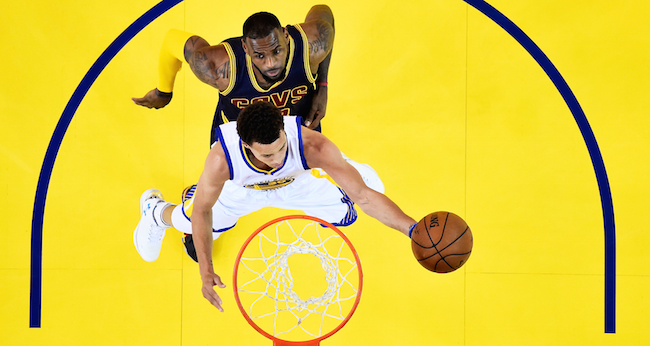 It's normally reductive to say that a game, let alone a series, hinges on individual performance alone. This a team sport, after all, and its increasingly position-less nature sometimes means the real impact of ancillary pieces is overlooked. But still, it's never been more obvious that these Finals will essentially be won by James and Curry.
If the reigning MVP plays like he did on Sunday and throughout 2014-15, the season will be over in 48 hours and the Warriors crowned champions. Golden State not only has the supporting firepower to pick up offensive slack of its top player, but chops on the other end that could render those struggles irrelevant, too.
Yet if the four-time MVP performs like he did in Game 5 and consistently has for so long when the stakes are highest, there's no such guarantee for the Cavaliers. As Golden State made clear again on Sunday, it can withstand an all-time night from James.
On the brink of elimination, the only silver-lining left for Cleveland is that its hometown hero doesn't seem too concerned. Asked to explain his comfort level on the floor in the face of so much adversity, James answered succinctly.
"I feel confident because I'm the best player in the world," he said. "It's that simple."
James even shouldered the blame for his team's loss, too.
"I've got to be better," he said.
And for any hope of ending their city's 50-year title drought, the Cavaliers will need James to be just that on Tuesday and in the all-or-nothing Game 7 to follow. Even play superior to his Game 5 masterpiece, though, still seems like it might not be enough to beat Curry and the Warriors.