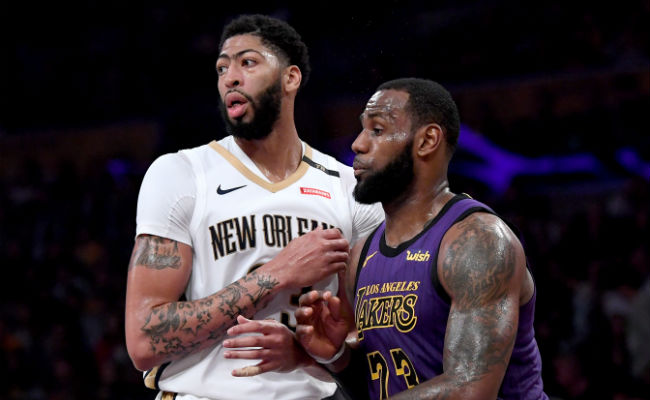 LeBron James made dinner plans after the Los Angeles Lakers played the New Orleans Pelicans. It's no surprise that he had that dinner with Anthony Davis, who earlier in the week James said would make an "amazing" teammate in LA.
Those comments kickstarted a lot of opinions about the power of James' voice and how it impacts player movement and trades in the NBA. Some anonymous GMs throughout the league were upset that James wasn't punished for speaking favorably about a trade — the thought being that not punishing James for tampering further encourages him to talk up leaving a smaller market like New Orleans for the greener pastures of Los Angeles.
Even Pelicans coach Alvin Gentry was upset that James spoke up, calling it "B.S." that James was able to tamper and go unpunished. That made for an interesting backdrop for the Lakers' meeting with the Pelicans on Friday night. After the game, James addressed the accusations that he's tampering when publicly commenting about Davis potentially getting traded to the Lakers. He adamantly defended himself, saying people can't control what he does and says but stressing that he's following the rules laid out for players in these situations.
"Ask me If I'd like to play with Kevin Durant, right now. Ask me," James said. When the reporter obliges James, he responded with an "Absolutely."
James then says he'd repeat the exercise with Jimmy Butler, Giannis Antetokounmpo, Ben Simmons and other NBA stars. James is making a point: This isn't just about Anthony Davis.
"It's not rocket science. These are great players. I would love to play with a lot of great players. That's just who I am," James said. "People get caught up in bunches sometimes when they wish they control what you say and they can't control me. At all.
"And I play by the rules," James added, sure to make it clear to those who have criticized him as openly lobbying for the Lakers to trade Davis.
James is right here: The rules are set up to allow this kind of thing to happen in press conferences, and it's only going to continue if the rules stay the same. But those rules ignore just how much of an impact LeBron has on, well, everything.
GMs aren't wrong when they worry what James says could impact free agency because what James says impacts everything, even pro sports leagues of which he's not a part. The problem is that you can't legislate James differently than the rest of the league just because his voice is that important. Unless the NBA is willing to make an exception, James will be allowed to say things like that until the cows come home. Whether it truly has an impact on anything, though, is far less clear.