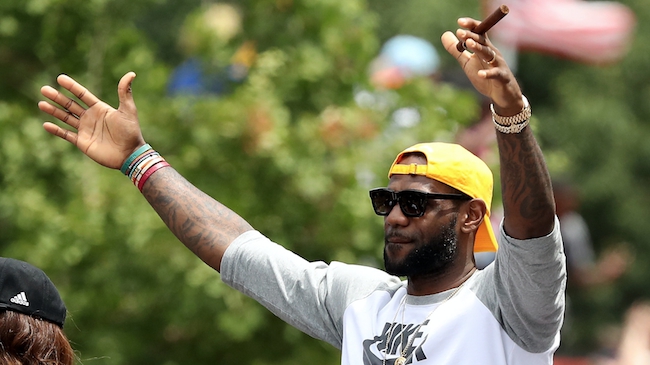 If there's anyone who might have some inside knowledge with regard to ongoing CBA negotiations between the league and players union, it's probably LeBron James. Not only is the Cleveland Cavaliers superstar the most marquee player in basketball, but he's also vice president of the National Basketball Players' Association. James' public complaint about the NBA Gametime app's new box-score layout has already been addressed by the league, too.
It's fair to take three-time champion at his word when it comes to league-related minutiae, basically, which is why this latest tidbit is so encouraging for the league at large, the players, and millions of fans across the globe. On Monday, James told Joe Vardon of Cleveland.com that he's "very optimistic" about a new labor deal being struck over the next several weeks.
"I think the best thing about it, we started the conversation a long time ago," James said Monday. "We're very optimistic on both sides, from the players' association to the owners, to (NBA commissioner) Adam Silver that we can get something done, and I think we can get something done.

"And I think it all started because we started the conversations early, ways we could better our league."
This confirms a recent report from The Vertical's Adrian Wojnarowski that "significant progress" has been made toward the ratification of a new collective bargaining agreement. Perhaps most importantly, commissioner Adam Silver stressed similar optimism to USA Today's Jeff Zillgitt over the weekend.
Both sides have the choice to opt-out of the current CBA by December 15, leading to the chance of a lockout following this season. That possibility appeared likely as recently as last summer, but the positivity voiced by James and Silver represents a significant shift in the tone of labor negotiations past and present. A new deal really does seem imminent.
Thank goodness, too. What's the only thing that could somewhat spoil the 2016-17 season finally tipping off in a couple weeks? The prospect of the season to follow being put on hold.
(Via Cleveland.com, USA Today)