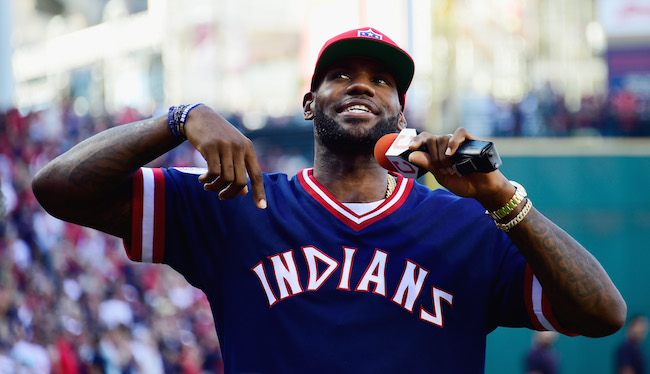 The Yankees travel to Cleveland on Thursday night to take on the Indians in the first game of their ALDS series. New York got into the ALDS by winning their wild-card matchup with the Twins on Tuesday night in lopsided fashion, and between their bullpen performance and hot power hitters are feeling pretty good about their chances.
So good, in fact, their social media team decided to poke a little bit of fun at Cleveland and the city's favorite son, LeBron James. James was a regular in the luxury boxes during the Indians' run to the World Series a year ago and has been supporting them during their 2017 run, but the Yankees want to make sure no one forgot that not long ago the Cavs' star was repping New York at baseball games.

James, in his younger days, was criticized for his Yankees fandom (and Cowboys fandom) in Cleveland and since returning from Miami has shown nothing but support for the other Cleveland squads. It's still a very good tweet and a nice, friendly barb thrown at Cleveland and the Indians, reminding them that their most famous fan is, deep down, a Yankees supporter.
The two squads will face off in Game 1 on Thursday night, and with the Cavs having an off night at home between preseason matchups with the Hawks and Pacers its probably a pretty good chance James and others will be in the building. While we can expect James to be in a Cleveland lid if he's there, teammate J.R. Smith is having a serious dilemma about the matchup.