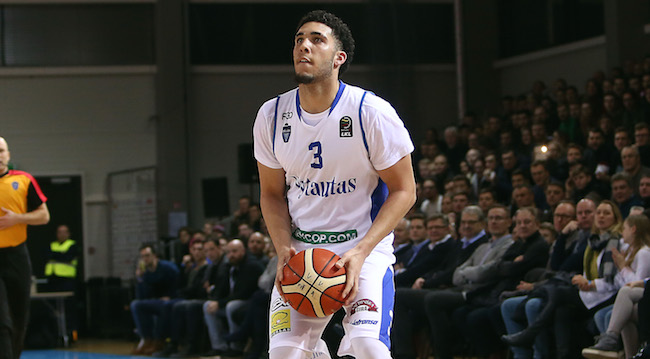 The 2018 NBA Draft will feature some fantastic prospects that have the chance to be star caliber players that could change the trajectory of a franchise over the next decade. Deandre Ayton, Luka Doncic, Marvin Bagley III, Mo Bamba, Michael Porter Jr., Jaren Jackson Jr., and others all have spectacularly high potential and it's expected one or more of those will become future elite-level stars.
Outside of those top prospects, like every draft in every sport, it becomes something of a crapshoot. Projecting how 19, 20, and 21-year-olds will react to a new style of play, new level of competition, and the need to develop into something more than what they currently are. Some will live up to lofty ceilings and projections while others will flame out. Hitting on one of those late first round picks or second round picks can be the saving grace for a front office, keeping them in power for years, while a big miss can lead to organizational changes, which is why they put so much work into the pre-draft process.
LiAngelo Ball hopes to be the kind of player that can prove himself to be a useful NBA player in this year's draft process, officially declaring for the draft on Tuesday morning, as his agent Harrison Gaines told Yahoo's Shams Charania. The move comes as little surprise as this has always been the path LaVar Ball scripted for his middle son after he left the UCLA program to play in Lithuania with his younger brother, LaMelo.

LaVar has boasted about LiAngelo's shooting ability as being the reason he'll make it in the NBA, and that will likely be what the middle Ball brother will be looking to show NBA scouts as he goes through the workout circuit. Where LaMelo has struggled some with his adjustment to Lithuanian ball, LiAngelo has played well in the upper league, the LKL, as he leads all scorers by averaging 15.7 points per game (albeit in nine appearances) and is shooting 45 percent from three point range.
Whether that shooting prowess translates to the NBA remains to be seen and is something scouts and team personnel will have to figure out, but Ball has shown better discrepancy in shooting since going to Lithuania as compared to his run and chuck mentality in his time at Chino Hills, and it's paid off in better efficiency.
While that's the optimistic view on LiAngelo, Ball still doesn't project as an NBA draft pick due to limited athleticism, but a camp invite isn't necessarily out of the question. There also will be plenty of questions teams will have about his decision making following his arrest in China while on UCLA that he'll have to explain away.