Nick Young is no longer going to be with the Los Angeles Lakers. Reports Thursday, by way of team insider Kevin Ding of Bleacher Report, suggest the team will buy out the contract of "Swaggy P" if they are unable to trade him. A 31-year-old with terrible shot selection, non-existent defensive discipline and an off-court life that has billowed into a leviathan of C-list celebrity distraction, Mister P is not worth much to any potential suitors, and the Lakers will most likely be forced to buy him out as a result.
This is okay and, in fact, very good. The Lakers have been hogwash of the highest order for the past few seasons, and this is not just due to lack of talent. A specter of nonsense overtook the organization following the death of owner Jerry Buss in 2013, with the twilight years of Kobe Bryant's career morphing the roster into a band of roving misfits as the five-time champion was sent off with a typically zealous level of sentiment and fanfare that took easy precedent over culture building and player development. Young, with his boringly aspirational Hollywood vibe and tiresome tabloid-magnetizing relationship with Iggy Azalea, was the epitome of what kind of gross moss grows on an organism tied to dead roots.
Slow-motion, broken-down Kobe who also didn't practice or lead in any discernible way was tough to watch and impossible to ignore. Addicted to relevance of any kind, the organization leaned completely into the farewell tour, shucking the duty of hiring a respectable coach and instead keeping Byron Scott around to cosplay the hard-knock ethics of the 1980s NBA. It's one thing for a franchise to stoop to such comically transparent lows in tanking as the Lakers did, but it's another when that team is the Lakers. Market size and the history of the game dictate we'll watch them a lot on national television every year, regardless of whether they have willfully devolved into a clown car. Such terms made for an abusive team-to-audience relationship in recent years.
Now, though, Young and Bryant and Scott are all gone, and the morass of yucky incompetence and unintentional self-satire that enveloped their actually very talented and exciting young core is gone too. Luke Walton, straight from his role as eminently chill assistant coach with the juggernaut Golden State Warriors, now has the privilege of shaping a youth movement led by D'Angelo Russell—No. 1 victim of Young's folly—Jordan Clarkson, Larry Nance Jr., Julius Randle, and the No. 2 overall pick in 2016's draft, Brandon Ingram.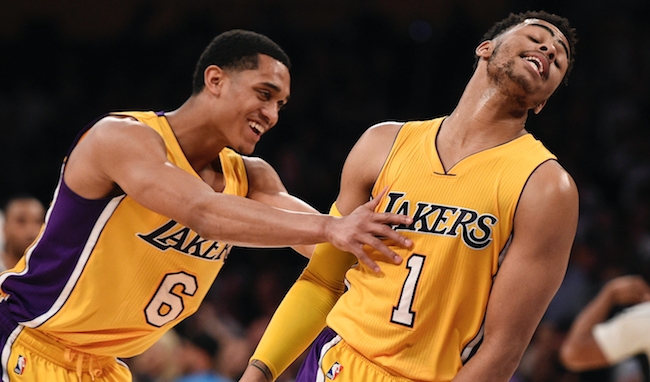 Cool!
The Lakers whiffed big time on Kevin Durant and other top-tier free agents over the summer, instead overpaying Timofey Mozgov, Luol Deng, and Yi Jianlian. Those drunk on the schadenfreude of the team's recent uncanny failures certainly have more to sip on with those moves, but none of them represent the threat of thoughtless nostalgia that stultified the franchise over the past two seasons. Russell's unique floor vision can now grow unfettered, Ingram can explore the weird and wide possibilities of his lengthy physique and smooth scoring touch, and the team will probably no longer enter into bold war with reality every night.
The Lakers are not going to be good in 2016-17, but it won't be because they're a catastrophe; it will be because they are young and dumb. Deng, for all his wear and tear, is an excellent and seasoned professional to have around and learn from, and Walton and Mozgov have both been involved in the NBA Finals for the past two seasons. A nice, sturdy shell of emotional stability and reason is building around a collection of dudes who are going to be really fun to watch run and dunk.
If we're going to be forced to see the Lakers play and the Lakers are going to be bad, it's heartening to see them at least gain some much-needed watchability this summer.
(via Bleacher Report, h/t CBS Sports)