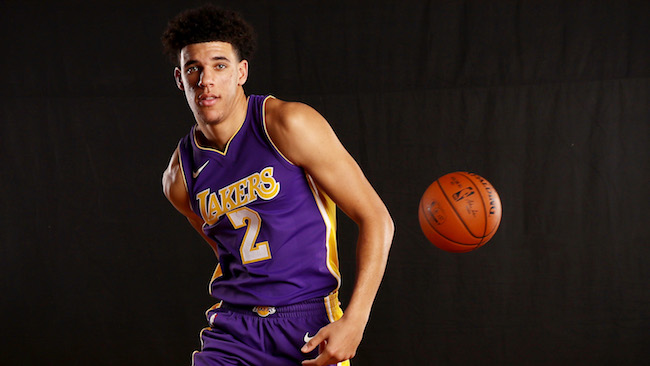 Laker fans better start crossing their fingers, because their 2017-18 season and their prized new rookie might all go up in flames before the team even reports to training camp if Lonzo Ball doesn't make amends, and soon. When Lonzo said nobody listens to Nas anymore and called his fans "outdated" on the Ball's new reality show, he understandably caused a firestorm, as Nas is a revered rap legend and people get a little defensive when it comes to revered rap legends.
Now, Lonzo seemed to be making the comments in jest, but context doesn't matter on the internet, and now that Lil B has heard about the perceived slight, he's threatening Lonzo with the dreaded BasedGod curse.
Yes, the curse that doomed Kevin Durant before it was lifted and still plagues James Harden may be hanging over Lonzo's head as Lil B threatened him with the hex once he caught wind of the Nas comments. "Lonzo ball is a few seconds away from being cursed his rookie year on the Lakers," the BasedGod said on Twitter. "Nas is hip hop and always relevant, watch ur team."
Granted, Lil B thought the comments came from LaVar Ball at first — a fair assessment, for sure — warning LaVar after asking "Did LaVar Ball really say something about Nas that was not of the highest respects concerning hip hop?"

Finally, he turned his attention to the entire Lakers organization, invoking the name of D'Angelo Russell, wondering "Didnt the lakers just trade a snitch deanglo Russell? Lakers front office what's y'all problem?" Then, he warned Lonzo one last time, saying "LONZO WATCH UR MOUTH."
With how damning the curse has been so far, the Lakers and Lonzo may want to nip this in the bud immediately. It's best to not take any chances, especially when they have their sights on the likes of LeBron James and Paul George next summer. You don't want any voodoo hanging around in the air while you're trying to get all of that taken care of.