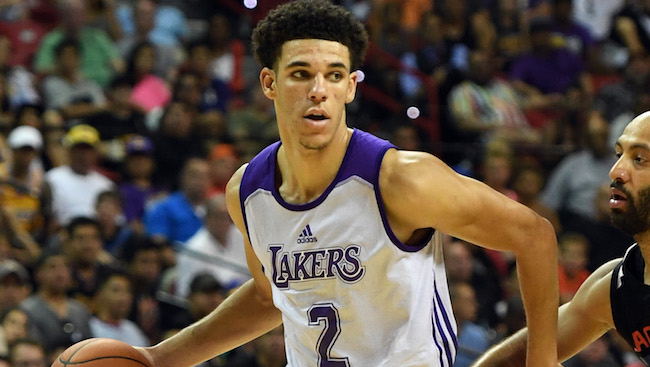 Lonzo Ball's torrid performance during the NBA's Summer League has turned heads around the league. After a rough first game, Ball played a pivotal role in Los Angeles making it to the Finals of the Las Vegas Summer League, averaging 16.3 points, 9.3 assists, and 7.7 rebounds per game for the summer Lakers.
On Monday night, Ball received the first honor of his NBA career, as he was named the 2017 MGM Resorts International NBA Summer League MVP.
As you can guess, the fine folks over at Big Baller Brand (more commonly known as his father, LaVar) were happy with the news.

Despite the fact that Ball was unable to suit up for the Summer League championship game against the Portland Trail Blazers due to a calf injury, the savvy and talented guard did enough to become the first Laker to win the award. Additionally, Ball made it onto the All-NBA Summer League First Team alongside four other rookies: Atlanta big man John Collins, Phoenix wing Josh Jackson, Dallas guard Dennis Smith Jr., and Portland forward/center Caleb Swanigan.
The second team also had a few rookies — Lakers forward Kyle Kuzma and Boston wing Jayson Tatum — alongside a trio of "veterans" in New Orleans forward Cheick Diallo, San Antonio guard Bryn Forbes, and Memphis guard Wayne Selden Jr.

But of course, the big news is Ball. Between his stellar play and his always-changing choices in footwear, Ball has been the center of attention during the Summer League slate. Sure, it's "only" the Summer League, but if Ball can put up similar numbers and help the Lakers win some games during his rookie year, we may see him play a big role in selling out more arenas.