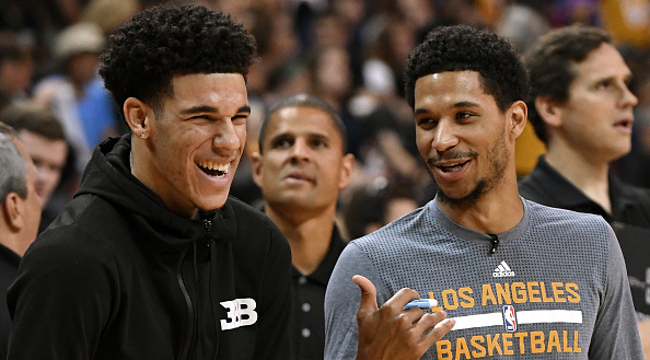 Lonzo Ball has had a rather interesting NBA career so far. Between his Dad basically proclaiming him to be a Hall of Famer from before it even began, to being touted as the next great Lakers point guard once they landed him in the draft, to then being just a piece in Anthony Davis trade, it's been a lot of ups and downs for Ball.
Last season was definitely hard for Ball. It's difficult to play well when you have to spend half of it wondering about trade rumors. While he made it through the deadline in L.A., eventually, that is what happened, and it would have been easy for Ball to let his frustrations consume him and go into New Orleans with a negative attitude, but he's not doing that, as he told Ohm Youngmisuk of ESPN.
"I was kind of excited, honestly," Ball told ESPN of his first reaction to the trade, after filming Saturday for the PUBG Mobile Team Up Superstar Showdown event. "I kind of figured someone was going to get moved soon enough. I knew Anthony Davis wanted to come bad. Anytime you can get a guy like that, you are going to have to do what you have to do to get him. So I was kind of already just waiting for it, honestly, and I was happy to go with two guys I am comfortable with in B.I. [Brandon Ingram] and JHart [Josh Hart]. I am excited to see what we can do.

"I tell people when I was a rookie, I probably would have been sad," Ball added of being traded. "Just being from L.A., having my whole family here and wanting to be a Laker. But being in the league for two years, knowing it's a business, as long you get to play, that's a blessing in itself. I'm excited to get started."
That's the spirit! Sure it's disappointing for him to have to leave the team he wanted to play for as a kid, but now he gets to go play with arguably the best NBA prospect since Anthony Davis in Zion Williamson. Ball's length on the perimeter should compliment well with Williamson's insane athleticism.
On top of this, New Orleans is just a great city. It has awesome food, a fantastic culture, and is just a generally cool place to be. Ball should manage to find a lot of enjoyment out of this trade that maybe he wasn't initially expecting. For example, the Pelicans are nowhere near as leaky as the Lakers so that alone will be a benefit of his location change.