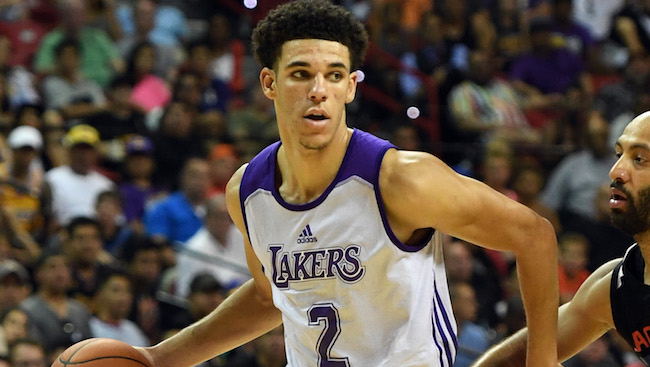 The Lakers are handing the keys to their franchise over to rookie point guard Lonzo Ball this season and asking him to help them take the next step in the rebuilding process. While the key to whether the Lakers can skip steps in the traditional rebuild will be who they land next summer in free agency, when they will target Paul George and LeBron James, Ball meeting lofty expectations at the point guard spot early will be almost as important.
If competing soon is the plan — and targeting stars like George and James would certainly mean that — young players like Ball and Brandon Ingram will need to develop on an accelerated curve in order to be contributors on a contender. For Ball, that means picking up the NBA game and becoming a league average or better point guard in just a season or two, which in a loaded point guard market isn't an easy thing to do.
Ball has the talent and demeanor to take on that responsibility, and this summer he's gotten help from some legends of the game to try and cut down on that learning curve. Playing for Magic Johnson and getting the chance to pick one of the all-time great's brain will certainly pay dividends for Ball, but another legend and former MVP, Steve Nash, has also been hands on with the budding young star.
Ball revealed recently that he worked out with Nash and Kevin Durant this summer, and on a recent episode of the Pro Basketball Talk Podcast with Kurt Helin, Ball explained what he learned from Nash that he thinks will help him the most on and off the court (as transcribed by Silver Screen & Roll).
"He's an MVP, one of the best point guards who was playing, so anything that he taught me is definitely useful," Ball said. "And just that one day alone I learned a lot, from coming off a screen, to guarding, there's a lot of things that he helped with and I appreciate him taking time out of his day to do that because I know he didn't have to." …

"We talked about all that. Nutrition, keeping your body right in the training room and stuff, lifting weights the right way, so he helped me on more things than just basketball. He helped me with my all around game."
Nash has become the Warriors' guru of sorts, but Ball was still able to tap into his wealth of knowledge this summer to learn a few things about the art of being a point guard to help him hone his craft. It's unsurprising that Nash would give the young guard advice on how to take care of his body as well as how to build his skills, as the former two-time MVP was always one of the best conditioned players in the league — and had to be to run the Seven Seconds Or Less offense.
Whether Lonzo can take those brief lessons from Nash and immediately apply them to the court this season will be a challenge for him, but it has to make Lakers fans happy to hear that he's trying to sponge up as much information from the legends he has the rare opportunity to come in contact with, even if only for a brief time.