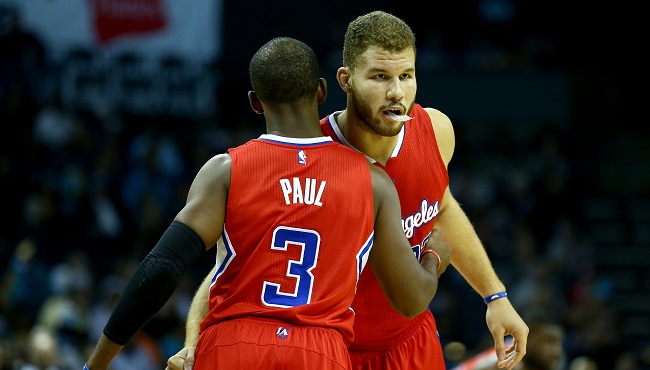 2016-17 Record: 51-31 (T-4th in West)
Players Added: Patrick Beverley (Trade with HOU), Sam Dekker (Trade with HOU), Jawun Evans (Draft), Danilo Gallinari (Trade with DEN), Montrezl Harrell (Trade with HOU), Marshall Plumlee (FA), Willie Reed (FA), Milos Teodosic (FA), Sindarius Thornwell (Draft), Louis Williams (Trade with HOU), Jamil Wilson (FA)
Players Lost: Alan Anderson (FA), Brandon Bass (FA), Jamal Crawford (Trade with ATL), Raymond Felton (FA), Luc Mbah a Moute (FA), Chris Paul (Trade with HOU), Paul Pierce (Retirement), J.J. Redick (FA), Marreese Speights (FA), Diamond Stone (Trade with ATL)
Projected Team MVP: Blake Griffin
Chris Paul isn't walking through the door in Los Angeles and the Clippers are, officially, Blake Griffin's team. Yes, DeAndre Jordan is a tremendous player and there is talent elsewhere on the roster, but the Clippers invested a massive five-year deal in Griffin after dealing Paul to the Rockets and that was a clear sign of the team's intentions to make the All-Star power forward their centerpiece. Unfortunately, Griffin is already battling injury before the deal even kicks in, as the toe ailment that cost him the end of the 2017 Playoffs has rendered him a question mark for the start of the 2017-2018 season.
If we assume full health (at least at the start of the campaign) for Griffin, the ceiling is immense. He is a 28-year-old forward with career averages of 21.5 points, 9.4 rebounds and 4.1 assists per game and, if nothing else, Griffin should be even more of an offensive focal point without Paul next to him. However, durability and mileage are real concerns. Griffin hasn't cracked the 70-game barrier in three full seasons and he seems to be good for at least one semi-serious injury per season. When on the floor, there is no question that Griffin is a big-time talent but, without Paul, the Clippers will be far more reliant on simple availability from their best player and it remains to be seen if he can live up to the billing in that regard.

Team X-Factor: Danilo Gallinari
Danilo Gallinari is very good at basketball. Like Griffin, though, the veteran forward hasn't been the most durable player in recent years and the Clippers may have compounded that issue by seemingly planning to deploy him as a full-time small forward. Make no mistake, there will certainly be times in which Gallinari "backs up" Griffin at his best position but, given the investment and the other pieces available, a frontcourt of Griffin, Gallinari and Jordan seems to be the de facto starting unit and one that presents real questions.
Gallinari's offensive impact is tremendous as a career 37 percent three-point shooter that regularly gets to the line (7.1 attempts per game over the past two seasons) and scores with impressive efficiency. That is the reliable portion of Gallinari's game but, in the same breath, it is hard to fathom a scenario in which his best talents (at the age of 29) are showcased playing next to Griffin, especially on the defensive end of the floor.
Jordan's presence and the addition of Patrick Beverley at the point of attack should help to mask some of the defensive issues created by this odd forward pairing. Still, the biggest question mark, aside from availability, is how this over-sized frontcourt comes together in a league littered with small-ball tendencies.

Best Case Scenario:
ESPN's RPM projections forecast a (very) successful campaign in the post-Paul era, largely because the Clippers did a fantastic job of recouping value for the now-departed point guard. Beverley is a very nice player at the point guard position and, even if the rest of the backcourt composition (all the combo guards!) makes very little sense, Lou Williams is coming off arguably the best season of his career.
Ultimately, though, the upside for Los Angeles comes down to the fact that the team's top three players all reside in the frontcourt. Jordan is a rock of stability and effectiveness but, for the Clippers to approach 50 victories, they'll need 70-plus games and an immediate kinship from Griffin and Gallinari. If that happens and Griffin's play-making chops are showcased, this could be an interesting and entertaining team that also happens to be quite effective in winning basketball games.
Worst Case Scenario:
As noted in those same ESPN projections, this is a risky bunch given Griffin's injury history and the combustibility factor. If he never gets right, there is a floor on just how ugly things can get (unless Jordan and/or Beverley goes down) and that is always nice. Still, we haven't seen what a post-Chris Paul unit in Los Angeles looks like and how those frontcourt stars will fare without the Point God feeding them the ball on rolls to the rim and putting them in the right positions.
While talent does matter, the pieces don't fit overly well on this roster at a few positions. It wouldn't be a surprise if the Clippers missed the playoffs this season, especially if things don't go well with Griffin's health (and Gallinari's). Even if he does, though, there are enough teams in the second tier of the West with comparable talent that nothing is assured in Los Angeles.