2017-18 Record: 35-47 (11th in the Western Conference)
Players Added: LeBron James (free agency), Rajon Rondo (free agency), Michael Beasley (free agency), Lance Stephenson (free agency), JaVale McGee (free agency), Moritz Wagner (draft), Svi Mykhailiuk (draft)
Players Lost: Julius Randle (free agency), Luol Deng (waived), Channing Frye (free agency), Isaiah Thomas (free agency), Brook Lopez (free agency), Tyler Ennis (free agency), Thomas Bryant (waived)
Projected Team MVP: Ivica Zubac LeBron James
One of my favorite things this preseason has been posts about how LeBron James has looked in preseason with the Lakers. He's looked like LeBron James. He's the same guy that hasn't missed the NBA Finals in nearly a decade (although that likely changes this season). He's still the best basketball player on the planet. That hasn't changed just because he's wearing purple (yes, I know, "Forum Blue" or whatever) and gold instead of wine and gold.
The questions with this Lakers team have nothing to do with LeBron's play, and everything to do with how everyone around him plays under this new spotlight and with new expectations. Which leads us to…

X-Factor: Lonzo Ball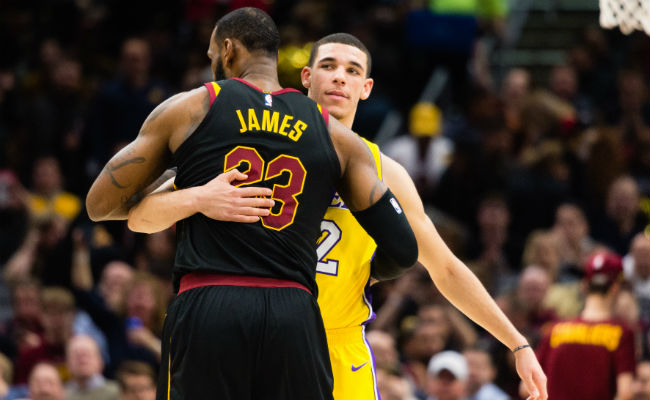 This is a toss-up between Ball and Brandon Ingram, but given how he performed last season, Ingram feels more like the known commodity here, although there is plenty of room for growth (and variance if he were to take a step back). Ball, however, had a famously dreadful year shooting and scoring, but was very good at just about everything else. He rebounds the ball particularly well for a guard, which will come in handy on this team that is lacking in the frontcourt, and his court vision and passing acumen is unassailable.
Ball will be playing with James now, which requires an adjustment for every player, but especially a point guard. Ball will not have the ball in his hands as much, because James, no matter how much he says he'll take an off-ball role and play in the post more this year, will eventually decide the Lakers are best when the ball is in his hands and he can be in control. That means Ball will have to play more off-ball, which could be to his benefit shooting. I expect him to have much improved shooting numbers from the perimeter, not simply because he tweaked his stroke in the offseason (which may very well help), but because he'll have more spot-up attempts — last year, he shot 33.1 percent on spot-up threes to 29 percent on pull-up threes.
The question for Ball may be how he handles sharing the play-making load and if he can remain engaged with the game even if there are possessions he doesn't have the ball. That may seem silly, but it's something that at times frustrated Kyrie Irving when playing with LeBron and is an adjustment for a young point guard who has, for his entire career going back to AAU ball, been the primary floor general. Ball will have plenty of touches and still will initiate the offense a good amount, but LeBron is LeBron and until proven otherwise, he's taking control when he deems it necessary. If Ball can be the same playmaker in that role next to James and see an uptick in shooting, he'll endear himself further to The King and can take the Lakers to a different level.
Best Case Scenario: All the Lakers young players take a step forward and are helpful contributors to the playoff cause and none of them need to be dealt away. LeBron James is the league MVP because he decides this year to show everyone what he's still fully capable of, and their rag-tag bunch of veterans all fall in line and help lift the Lakers to 49 wins and a mid-seed in the West. Once in the playoffs, James does what he does and carries them to wherever they meet the Warriors (conference semis or finals) and they play a very fun five-game series. Over the summer, they add Kawhi Leonard and upgrade their frontcourt to become legit contenders in the West.
Worst Case Scenario: Ball continues to struggle shooting and Ingram doesn't take the step forward so many expect him to next to James. The team struggles on defense with a frontcourt rotation that can't consistently protect the rim. The locker room fractures during the struggles and the front office feels forced to make moves at the deadline to try and save face this season, dealing away veterans and young players alike in an effort to cobble together a playoff team around LeBron like Cleveland did a year ago. Unfortunately, in the West that doesn't work and they win 40 games, slipping to the 11-seed and then fail to land any of the very top free agent talent as Jimmy Butler and Kawhi Leonard team up with the Clippers, and the Lakers end up giving Eric Bledsoe a massive deal.