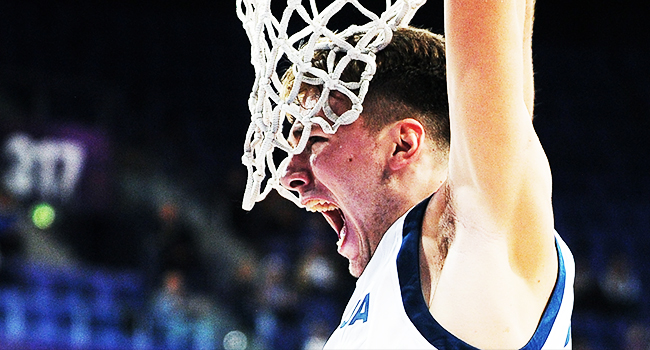 It has been a long while since a European prospect was included in the discussion for the No. 1 overall pick in the NBA Draft. While Kristaps Porzingis zoomed up draft boards just a handful of years ago, the last player that the entire basketball world saw coming with a full season of play remaining before the draft was Spanish standout Ricky Rubio. The talented point guard did not land in the top overall spot in a class that included Blake Griffin and James Harden, of course, but at least part of that downturn had to do with Rubio's inability to come to the United States immediately.
In terms of the 2018 draft class, a top-flight prospect from Europe has emerged and is a player that should be able to come to the United States right away. That prospect is Slovenian wing Luka Doncic, and if you don't know his name, know that we are talking about someone with a legitimate case for being the best player in the 2018 NBA Draft.
Doncic, like Rubio before him, ascended to the heights of professional play in Europe at an obscenely young age. Since becoming a professional basketball player since the tender age of 13 (!), Doncic has emerged as a legitimate rotation piece in the EuroLeague by the time he reached the age of 17. Now, though, more and more American fans and pundits are having the chance to take in the full Luka Doncic experience, as Slovenia has been taking part in the FIBA EuroBasket competition.
The 18-year-old uber-prospect is not the best player on his national team, simply because long-time NBA starter Goran Dragic is in the mix for Slovenia. With that said, Doncic already appears to be the No. 2 man on the roster and that comes along with per-game averages of 13.7 points, 7.0 rebounds and 3.7 assists during this high-end competition.
Doncic's most recent performance came against Greece and, in short, he was tremendous.

The performance against Greece produced quite a reaction given the stat line by Doncic's poise and overall demeanor throughout have also impressed. His young age simply doesn't resonate negatively in the proceedings and, while the overall talent level doesn't leap off the screen, Doncic is playing against full-blown professionals at every position. Beyond that, he isn't deterred in the slightest, even in crunch time while playing alongside a real NBA point guard in Dragic.
At this point, Doncic is perhaps best known for his unbelievable basketball IQ, something he possesses that truly cannot be coached into a prospect. The almost inevitable comparisons to Rubio stem from this "it" factor and the fact that Doncic is already an obscenely gifted passer with off-the-charts vision and the ability to think several moves ahead.
https://twitter.com/KevinOConnorNBA/status/904749399141732353
While some have dubbed him as a "point forward" at this point, Doncic's pure size at 6'8 likely indicates that he will serve as a wing prospect at the NBA level. Still, there is a justifiable premium placed on wings that can create offense for both themselves and others will the ball in their hands and Doncic fits that bill to perfection.

There are, of course, some questions about Doncic's ability on the basketball court. After all, he isn't the consensus No. 1 pick in a class that also includes big-time prospects like Michael Porter Jr. and Marvin Bagley III, among others.
At this point, Doncic is, quite simply, an average shooter. While he burst on to the scene with nearly 40 percent shooting from three-point distance during the 2015-2016 season in a small sample, Doncic converted only 34.7 percent of his threes during 67 EuroLeague games in 2016-2017. That isn't a brutal figure for a still-developing player but, in order for the multi-talented youngster to hit his immense ceiling, development into a high-end shooter is perhaps the most necessary path.
The other pressing and, frankly, bigger issue is that Doncic could become something of a liability defensively. He isn't the off-the-charts athlete that some of the other top prospects in the class have proven to be and, even with good length, there is a baseline when it comes to being able to defend the best of the best on the wing in the NBA. On the bright side, Doncic has displayed more than enough feel for the game to become an adequate positional defender and his length is such where real development into an above-average player on that end isn't out of the question.
Because of the immense necessity for NBA teams to attract multi-dimensional talent on the wing, a prospect like Doncic could be all the more enticing. There will certainly be a chorus praising the overall upside of bigger, more athletic players like Porter Jr. and Bagley III and, at the very peak of the upside from both players, it is easy to see why. With that said, Doncic's positional versatility and wildly intriguing offensive upside as both a passer and scorer make him a real threat to overtake everyone in the group to assume the top overall position.
Many things will work against Doncic in the draft process, from the general uncertainty (even in 2017) about European prospects to the simple reality that a player operating thousands of miles away doesn't receive quite the attention that a local, college-based prospect would. By June, however, we'll know even more about Luka Doncic and it shouldn't be a surprise to anyone involved if the Slovenian standout has his named called before everyone else in the 2018 NBA Draft.