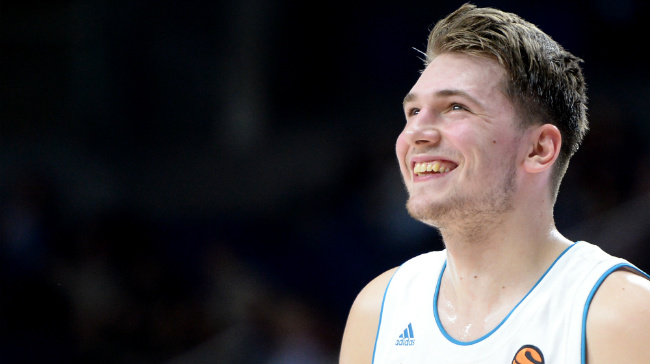 Over the next two months, debates will rage with regard to the 2018 NBA Draft. The NBA Playoffs may dominate the overall basketball conversation until early June but, in the midst of it all, discussions concerning Arizona's Deandre Ayton, Duke's Marvin Bagley III and others will continue, and this year, a 19-year-old Slovenian prospect will perhaps act as the most polarizing of all.
That player is Luka Doncic, who many believe should be in the conversation for No. 1 overall despite the plethora of American-born talent available. Doncic has been obscenely good while operating in the second-best league in the world and, in advance of draft season heating up in full force, he caught up with Mina Kimes of ESPN for a wide-ranging profile. While the entire thing is certainly worth a read, Doncic was prompted about his NBA tastes and, while he named a few favorite players headlined by LeBron James, it appears the youngster sees a lot of Ben Simmons in himself.
He says he likes the pace of play and the prevalence of the pick-and-roll. His favorite players are LeBron James, Kevin Durant and Kyrie Irving, but he's enjoyed watching Ben Simmons. "I think we are, like, similar, you know?" he says. "He can play point guard, he can play forward. He can play a lot of stuff, like LeBron."
It isn't difficult to discern the resemblance between Simmons and Doncic, especially from a unicorn perspective. Simmons acts as the primary offensive distributor for the Philadelphia 76ers, and while he certainly isn't defending point guards full-time at 6'10, his combination of size, vision and passing ability is suffocating in today's NBA. While Doncic isn't quite as lengthy as Simmons, he possesses fantastic size for a perimeter option at 6'8 and much of the prospect hype surrounding him revolves around his basketball IQ, vision and ability to read the game at a mature level.
Of course, any comparison to Simmons (who may be the Rookie of the Year) will draw ire from some corners of the basketball world and it is also worth pointing out that, yes, the former LSU star did have the opportunity to watch the NBA game from the sidelines over the course of a full year before debuting. Still, Doncic and Simmons have a lot in common, and when surveying the current professional landscape, the Sixers rookie is perhaps the best comparison.
Doncic will have many detractors between now and late June, including a sizable contingent that has written him off without actually watching him play. Still, he will have every opportunity to prove skeptics wrong and supporters right in the coming months, and if nothing else, this could bring an elusive player comp to the table that, until now, virtually hasn't existed for a player that has accomplished more in European basketball at his age than any before him.