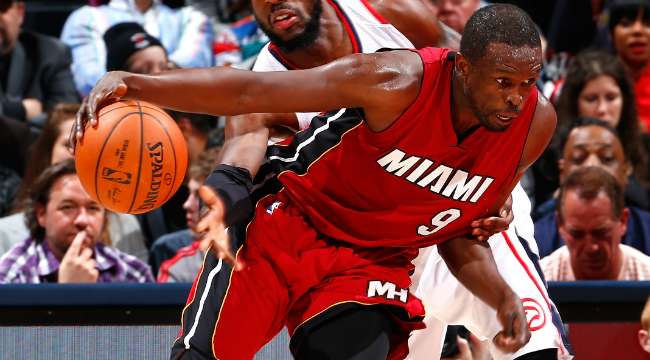 In a move that may come as a surprise to some, Luol Deng has opted in to the final year of his contract and will return to the Miami Heat for the 2015-16 season.
Even though the Heat somehow managed to come away with Justise Winslow (who plays Deng's small forward position) on Draft night, Deng is a very useful player, and his opting in allows the Heat to head into free agency with more certainty about their needs. Re-signing Goran Dragic (which is nearly a sure thing) and Dwyane Wade (not so much) are their top priorities, but Deng was a concern.
Though Deng had the biggest shoes of all to fill in Miami's starting lineup, he's a long, intelligent defender and a reliable secondary option on offense who shot 35 percent on 3-point attempts last season. If the Heat bring back Dragic and Wade, a projected starting lineup of Dragic, Wade, Deng, Chris Bosh and Hassan Whiteside seems like it could easily be good enough for a playoff run in the Eastern Conference, depending on health. They'll certainly "be good."
Winslow may be the real deal (and some youth-obsessed fans may not like to see his spot blocked by a 30-year-old veteran), but he could thrive coming off the bench to provide energy and defensive flexibility, without the pressure of starting alongside so many seasoned vets.
As the opening of free agency July 1 looms ever closer, some preliminary pieces are beginning to fall into place around the league. For the Heat, Deng's return is a boon, but the big fish have yet to be reeled in.
(Via Tim Reynolds)