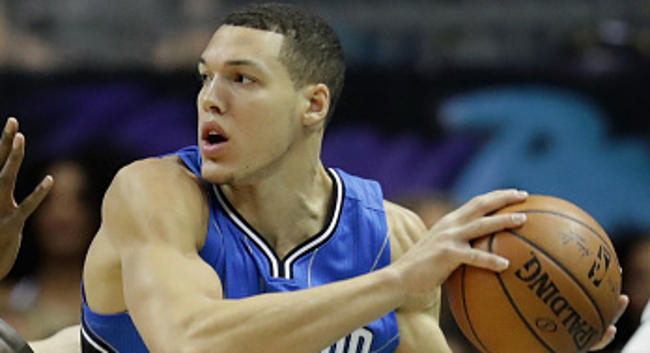 The Orlando Magic may have done irreparable damage to their relationship with budding big man Aaron Gordon on Monday when a photo leaked on Twitter appeared to show their offseason plans, which included a potential trade scenario in which they swap Gordon for promising Sixers rookie Dario Saric.
The front office has been on damage control ever since, with GM Rob Hennigan telling the Orlando Sentinel that the list of options that appeared on the white board in the leaked photograph are not necessarily indicative of their plans next summer. They went a step further on Tuesday when head coach Frank Vogel met with Gordon to try and smooth things over.
Here's what Vogel told the Sentinel about their meeting:
"Typically, with rumors and stuff like that, we don't really address them," Vogel said today when asked about the photo. "But this is a unique situation, and I talked to him a little bit this morning, and everybody's good. We're ready to move on."
When asked to elaborate on how that conversation went, Vogel refused. Gordon was also mum in terms of the specifics of their meeting and mostly leaned on familiar platitudes to try and de-escalate the situation.
"It was definitely something that I wasn't aware of before," Gordon said today when asked about the dry-erase board's content.

"It wasn't for me to see, so for me to see something like that, it brings something that's out of my control into my reality. But that's neither here nor there. My plan and my focus is to play basketball and to enjoy the game of basketball. Anything other than that is out of my control. I love this organization and I'm going to continue to work hard and play."

When asked how difficult it is to put it out of his mind, Gordon responded, "Obviously, I know that it's there, but I just play the game. I trust my skills. I love my teammates. So with that, I can just play."
Gordon is saying all the right things, but this will obviously affect him as the team moves forward. Fortunately, the Magic's season will be over soon, but that, of course, will give way to a summer of uncertainty for the talented third-year forward.