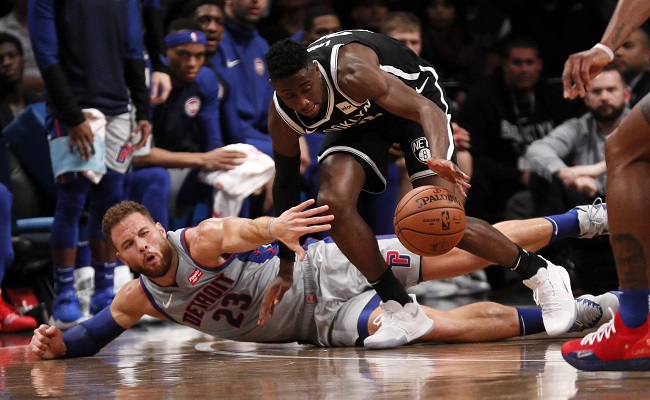 Is this year's playoff race in the East the worst ever? It sure feels like it. On Wednesday night, everybody involved in the tight race from No. 6 to No. 10 was in play and all of it had massive implications. So, of course, everyone but two happened to lose. The bottom portion of the Eastern playoffs is not a test of the NBA's best battling it out. It's more of a survival experiment where the least mediocre will manage to make it to the NBA's second season — albeit, likely briefly.
Yet, despite this mediocrity, despite the basketball being played by these teams not being especially good, it's shockingly entertaining. The Pistons, Nets, Magic, Heat, and kind of the Hornets are in a five-way race for the final three spots in the Eastern Conference playoffs and absolutely nobody can get out of their own way. It's one of the most competitive races we've ever had and not a single team has reached 40 wins before April 3. That's honestly impressive. It's also created compelling basketball!
In the Magic's 114-100 win over the Knicks on Wednesday, they needed Terrence Ross and Michael Carter-Williams to come to their rescue in the fourth quarter so they could gain a sustainable lead and then hold on to it. The Magic were pushed to extra effort against one of the NBA's worst teams, as their former lottery pick Mario Hezonja posted a career-high against them out of spite. At a time in the season where usually everything is wrapped up and we're just waiting for the playoffs, the Eastern Conference has given us the opportunity to care about a bad Knicks team in April, because even in their awfulness, they can shape the playoff picture. Your favorite Western Conference could never. Did you even know Carter-Williams was playing important basketball minutes right now? Because he is and it's glorious.
The rest of the teams in the East's playoff hunt didn't fare as well on Wednesday, though. The Nets continued to get beaten down by a brutal schedule and were handed their sixth loss in 10 games by the Raptors. The Pistons got dusted by the Pacers and then the Heat fell short against a struggling Celtics team. Everything the Magic needed to go right went right. The only team that won besides them were the Hornets, but they might be in too deep to really compete. With that in mind, let's look at what every team will need to do from here on out if they want to snag one of those final playoff spots, starting with a refresher on the NBA's tiebreaker scenarios.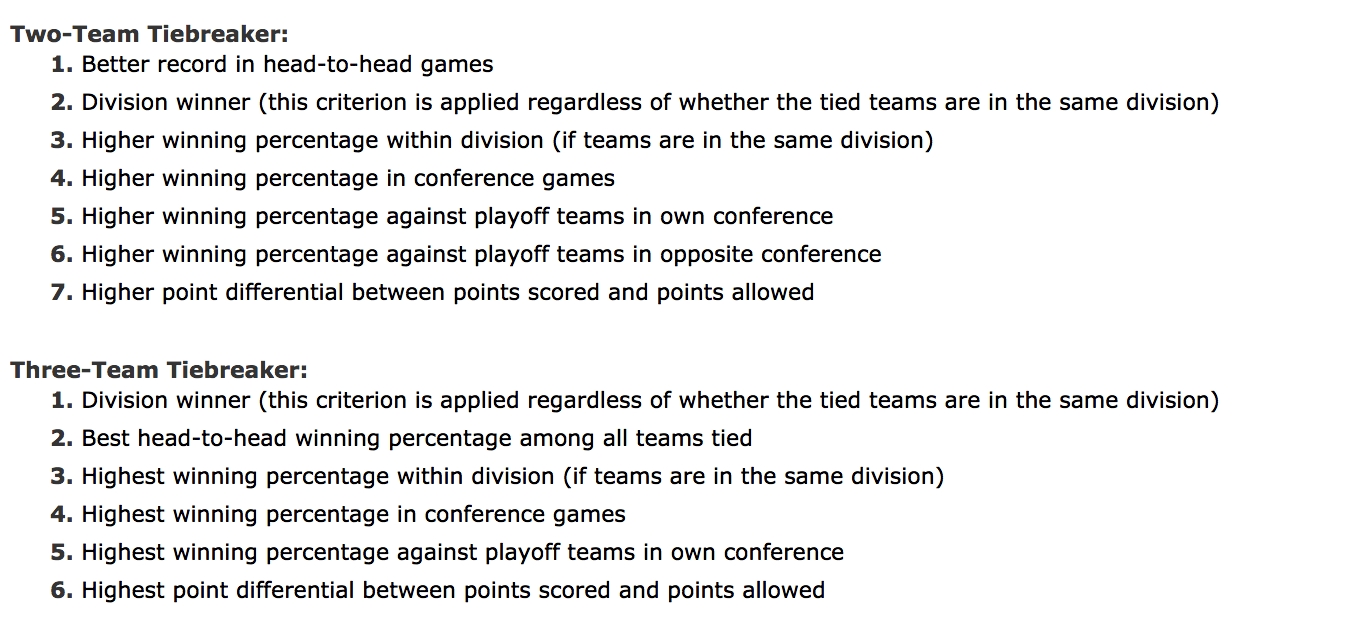 For the race in the East, the Division winner tiebreaker could be especially important if there is a three-way tie involving the Southeast Division champ, because that will be one of the Magic, Heat, or Hornets. As you see, that takes precedent in a three-team tie. Below, we'll look at each team in the hunt, highlighting their conference and division record (for teams in the Southeast) as well as highlighting who owns head-to-head tiebreakers with who.
No. 6 Pistons: 39-39 (26-24 vs. East teams)
Four games left
Apr 5 @OKC
Apr 7 vs. Charlotte
Apr 9 vs. Memphis
Apr 10 @ New York
Head-to-head Tiebreakers
Nets: 1-2
Magic: 3-1
Heat: 2-2
Hornets: 0-3 (1 game remaining)
For the Pistons, Nets, and Magic, the answer for them is simple: Win all your remaining games and you're in. Not only does Detroit control its own destiny but they have a pretty easy schedule to finish the year and should they miss out, would have nobody to blame but themselves. The OKC game is a probable loss, but with matchups at home against the Hornets and Grizzlies and then finishing the year against the league worst Knicks this could easily be a 3-1 finish on the way to a playoff spot. Of course, there are ways for them to miss out even with a 3-1 record to close.
The Nets own head-to-head tiebreaker over the Pistons and are right on Detroit's tail, just a half-game back. A loss to OKC could put Brooklyn right back into the No. 6 spot. The Magic are also right there at a half-game back of the Pistons, but Detroit won their season series. The Heat are only one loss back to the Pistons, so if they were to win their final four and Detroit loses that game to OKC they would be in a tiebreaker situation and whether the Pistons get it or not depends on what the Magic do. Stay with me here.
In a three-way tie situation, the Pistons would lose out on tiebreaker to the team that won the division between the Magic and Heat. If the Pistons were to lose their game to the Thunder, and then both the Magic and Heat won out then one of those two would get the higher playoff seeding. It's hard to look at this scenario though and see the Pistons missing the playoffs because they possess the individual head-to-head tiebreaker over both teams in these situations. Yes, the Heat/Magic would take the higher playoff spot, but the final spot would move to a head-to-head. As stated before, the Pistons have tiebreaker over the Magic, and with the division winner situation taken care of it would move over to conference record against the Heat. As long as the Pistons win one more non-OKC game, they'll clinch that tiebreaker over Miami. It's hard to see a scenario where the Pistons don't make the playoffs outside of a complete and total collapse, but that's certainly in play.
No. 7 Nets: 39-40 (26-23 vs. East teams)
Three games left
Apr 6 @Milwaukee
Apr 7 @Indiana
Apr 10 vs. Miami
Head-to-head Tiebreakers
Pistons: 2-1
Magic: 2-1
Heat: 1-2 (1 game remaining)
Hornets: 2-2
The Nets have the benefit of a strong beginning portion of the season covering up their struggling finish. They're currently sitting in the No. 7 seed behind Detroit and they finish the season at home against playoff hopeful Miami. Their finishing schedule is brutal due to road games against the Bucks and Pacers and both games being on a back-to-back. They may get lucky though if one of those teams chooses to rest its players with their playoff futures all but locked in.
The worst situation for Brooklyn is a three-way tie with Miami and Orlando in which they lose to Miami to end the season and the Magic win the Southeast Division. That would put Orlando in seventh, Miami in eighth thanks to Miami holding the better head-to-head winning percentage against both teams (50%) than Brooklyn (43%). Otherwise, Brooklyn is in good shape in head-to-heads with Orlando and Detroit, they just have to worry most about taking care of their own business against a difficult schedule.
No. 7 Magic: 39-40 (27-22 vs. East teams (8-6 vs. Division)
Three games left
Apr. 5 vs. Atlanta
Apr. 7 @ Boston
Apr 10 @ Charlotte
Head-to-head Tiebreakers
Nets: 1-2
Pistons: 1-3
Heat: 3-1
Hornets: 1-2 (1 game remaining)
Like the Nets and Pistons, winning out gets Orlando in thanks to a head-to-head tiebreaker over the Heat, who could at best tie them by winning out as well, giving the Magic the Southeast Division in that scenario. They also boast the best record against teams in the East of any of the teams in the race currently, which is helpful in three-way tiebreakers. That said, they lose out on head-to-head tiebreakers with the Nets and Pistons and, if they were to get vaulted by Miami and end up tied with one of those teams for eighth, they would be the odd team out.

No. 9 Heat 38-40 (22-27 vs. East teams, 7-9 vs. Division)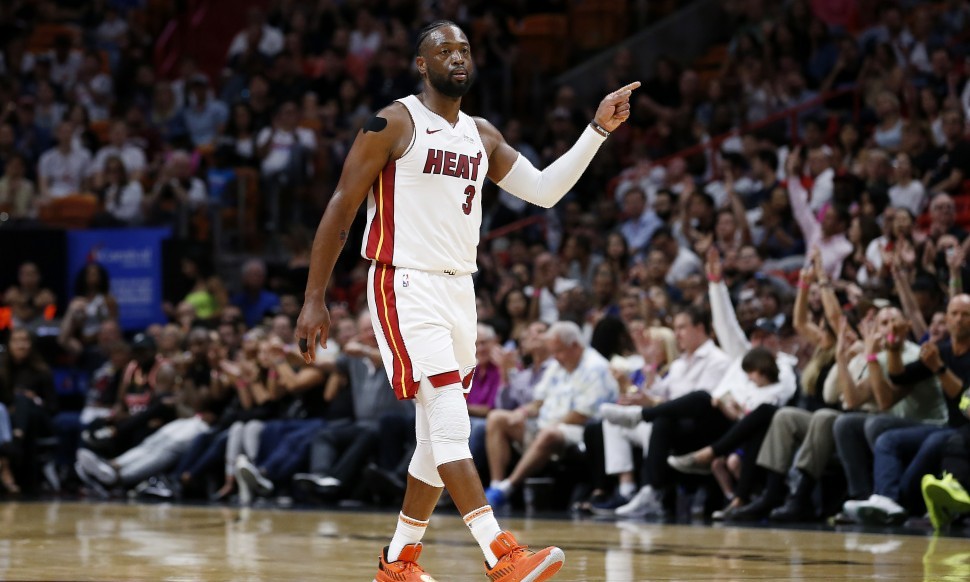 Four games left
Apr. 5 @ Minnesota
Apr 7 @ Toronto
Apr 9 vs. Philadelphia
Apr 10 @ Brooklyn
Head-to-head Tiebreakers
Nets: 2-1 (1 game remaining)
Magic: 1-3
Pistons: 2-2
Hornets: 2-2
The Heat's schedule to finish the season is disgusting. They go on the road to a forgettable but challenging Timberwolves team then they have to stay up north against a brutal Raptors squad. After a one day break they're at home for the 76ers, who seem to be content with sleep walking to finish out the season, and then they're on the road for an incredibly important matchup against the Nets. You never like to finish the season on a back-to-back, but finishing on one with this schedule is just harsh. Keep in mind they just had to play the Celtics twice.
Making matters worse for Miami is that the Nets (who they play one more time) are the only team they have a chance at owning the head-to-head tiebreaker against. They lose the head-to-head with Orlando, would lose a division record tiebreaker with the Hornets, and would likely lose a conference record tiebreaker with the Pistons. Miami will basically need to make it in clean, or get that magical Orlando/Brooklyn three-way tie discussed above, rather than being in a head-to-head tie for eighth with anyone other than Brooklyn.
No 10. Hornets 36-42 (26-22 vs. East teams, 10-5 vs. Division)
Four games left
Apr 5. vs. Toronto
Apr 7 @ Detroit
Apr 9 @ Cleveland
Apr 10 vs. Orlando
Head-to-head Tiebreakers
Nets: 2-2
Magic: 2-1 (1 game remaining)
Heat: 2-2
Pistons: 3-0 (1 game remaining)
The Hornets have, by far, the most complicated road to the playoffs, but one does exist.. They were playing great basketball, but a three-game losing streak on their west coast road trip hurt them badly. They did manage to snag a win on their final game of the trip in New Orleans though and that might be exactly what they needed to stave off elimination.
If the Hornets are going to make the playoffs then they need to win every game from here on out. Flat out. It's just hard to see a scenario where two teams ahead of them lose all their games and finish with 38 or 39 wins AND Charlotte has tiebreaker over both of them. Is that a possibility? Absolutely, but that doesn't mean Charlotte should be trying to play to it. One advantage the Hornets do have is they play two teams in front of them to finish out their stretch and can own the tiebreaker over both.
If the Hornets are going to make the playoffs then they'll want to win their division. That's their best path. This means they need the Magic to only win one more game before their matchup on April 10, because if the Hornets win that then they clinch tiebreaker over them in head-to-head matchups. They do have the advantage though of having the best division record as well, so if they tie with Miami, despite being 2-2 against them this season, they'd win the division there. A three-way tie between Orlando, Miami, and Charlotte would result in the Magic taking the division crown based on cumulative win percentage.
If Charlotte gets unlucky though and the Magic win two more games, thus guaranteeing a better record than Charlotte, then the Hornets plan B will need to be that someone that is not Orlando fell apart. The Heat's path is hard enough as is and, if the Hornets managed to win out then the only way Miami is holding that back is by winning three of its final four.
This just leaves either the Nets or Pistons. The Pistons are preferable because the Hornets already own head-to-head tiebreaker over them and they play them during this final stretch. The Nets have a harder schedule, and their tiebreaker would come down to conference record, which would play in the Hornets favor at this point. So while the Hornets will need to try and go for a division title to make the playoffs, there are scenarios that exist where they can steal a playoff spot from one of Detroit or Brooklyn, but like everybody else in front of them, it would require a lot of losing. It's not impossible, but the Hornets need some serious luck on their side.