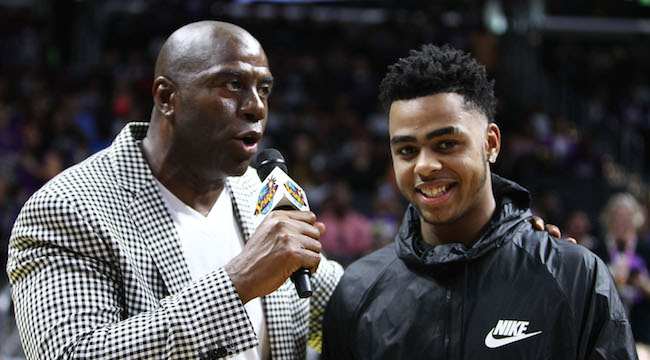 Magic Johnson has returned to the Lakers front office as an advisor to Jeanie Buss, as the Laker legend will look to assist his beloved franchise in becoming a contender once again.
Johnson spoke with Spectrum SportsNet on Thursday night about his new role and thoughts on the team, and revealed that he thinks the Lakers are close to being back in contention.
Anyone that's watched the Lakers (or the Spurs or Warriors) should know that this isn't the case. The Lakers need more than just one superstar to become a title contender immediately, because they need time. D'Angelo Russell, Julius Randle, Jordan Clarkson and Brandon Ingram are all quality young pieces, but even if you dropped Kevin Durant (who is the only real superstar that could really hit the market this offseason should he opt out of his player option) on the Lakers next year, that's not a contender for that season.
Johnson insists that the Lakers have everything they need now, except for a superstar to make everyone better. This is the kind of rhetoric that concerned Lakers fans about Johnson coming back into a position where he could have influence over personnel decisions. He's not wrong in saying the Lakers need a top-level player. The Lakers just also need time to develop their young core and see what they have.
The concern for Lakers fans is that the team, which has done well so far in building a young core, will mortgage the future in an effort to contend immediately. This sentence in particular is the most concerning for how he views the process.
"If I felt like we were far away and it was going to be a waste of my time, I wouldn't be here and I wouldn't have taken this road," said Johnson.
The idea that a slower build is "a waste of time" signals that patience won't be the best attribute of the Lakers front office (it rarely has been) and with this current roster that's something the Lakers need.