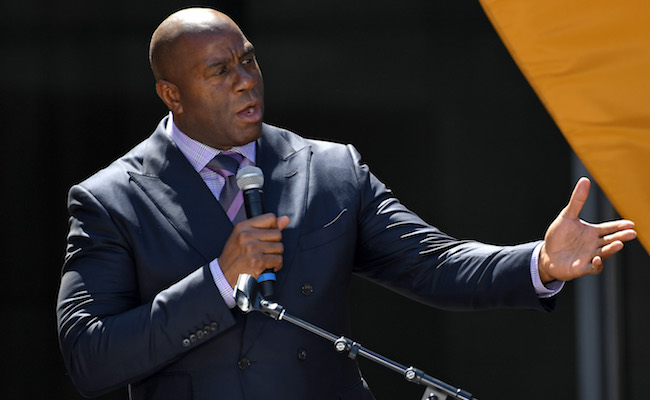 With LeBron James on board, the Los Angeles Lakers will be must-see television for the foreseeable future. However, the early roster building from Magic Johnson, Rob Pelinka and company hasn't been met with unanimous approval and, during the team's Summer League Final match-up against the Portland Trail Blazers, Johnson was prompted about what the team elected to do after securing a commitment from the best player in the world.
Johnson's answers were revelatory, including an allusion to a desire to play fast and the assertion that, at least in his mind, the Lakers do have shooting on the roster. Perhaps the most interesting statement, however, was Johnson indicating that the front office constructed the roster based on watching "every series" in the 2018 NBA Playoffs.
In addition to the overall references to the Lakers having shooting, he expressed skepticism in that being any kind of elixir at the highest level, using the Celtics as an example.

In some ways, it is easy to see what Johnson is trying to say, particularly given the fact that Los Angeles does not appear to be interested in a high-priced center. However, the lack of three-point spacing doesn't jive with the high-level play that was occurring in the postseason and, even if one believes that the "playoff" Rajon Rondo will return in full, the addition of Lance Stephenson (one of the "tough guys" Johnson is referencing in the clip above) is a puzzling one through any lens.
If you squint hard enough, the Lakers could probably put together a switchable, defensively versatile lineup, particularly if they elected to lean on young players like Lonzo Ball, Josh Hart and Brandon Ingram. However, that is almost certainly not what Johnson meant in this statement and it will be interesting to see how the Lakers look when and if they arrive in the league's "second season" in April and May.