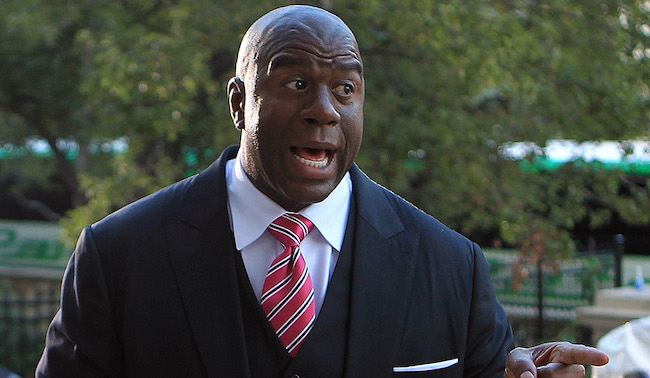 Despite the best efforts of Luke Walton to rest veterans and stars and the general construction of a roster that had won 21 games in the first 76 games, the Lakers went 5-1 to close the season. In doing so, the Lakers managed to jump ahead of the Phoenix Suns for 14th in the West and gave themselves only the third-best chance to earn the No. 1 overall pick in this June's draft.
While this draft is loaded with talent at the top, the Lakers are in a precarious position holding the No. 3 spot in the lottery, as their draft pick will convey to the Sixers should they fall out of the top 3. With those wins down the stretch, the Lakers saw their odds of getting the top pick drop from 19.9% to 15.6% and also saw the chances of them having no first round selection in this year's draft increase.
For new President of Basketball Operations Magic Johnson, having a top-3 draft pick is critical to continuing the rebuild of the franchise. The Lakers have a nice young core of players, with D'Angelo Russell, Julius Randle, and Brandon Ingram, but they still need to fill out their roster with more depth, or, at the least, acquire more young assets that could be used to bring in a superstar. On Thursday night, Johnson went on Jimmy Kimmel Live! and "joked" about how he was torn watching his team win down the stretch.

The two talked about all manner of topics, like new GM Rob Pelinka, his rivalry with Larry Bird, short shorts, and learning about the CBA and how not to tamper. But the discussion of the Lakers winning late in the season was the most interesting, as Magic laughed about wanting the team to lose so they can hold onto their draft pick, but then covered by saying he was happy the guys were learning to win.
"I was saying, 'Oh, it's good, but damn, we're winning' [laughs]. No, I wanted us to taste winning," Johnson said. "We've been losing for four years. I wanted the guys to experience what it felt like to win, because if you never get that feeling…you'll never know how it feels. So we're going to carry that into next season."
Every front office of a team at the bottom of the rankings goes through these strange feelings at the end of the year of wanting to lock in the best draft pick possible, while also evaluating what they have, but for the Lakers it's even more stressful because of the possibility of losing the pick completely. Getting the fourth or fifth pick in this year's draft still probably results in a quality player because of the depth at the top of the draft, but that's not a possibility for the Lakers, where it's top-3 or bust.