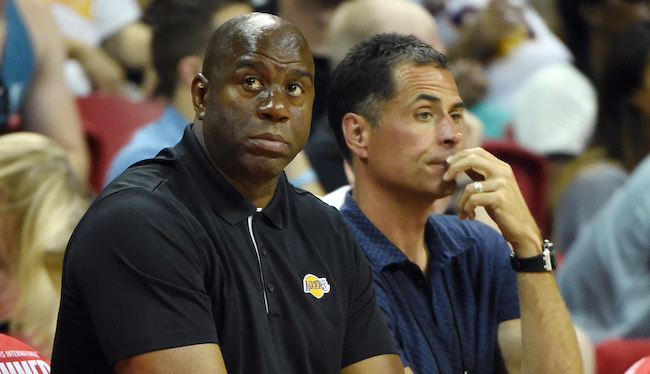 Magic Johnson's transition into power in Los Angeles has been eventful, if nothing else. The internal coup that took place with Jeanie Buss taking power and booting her brother Jim out was messy and ultimately led to Magic becoming team president and Rob Pelinka being inserted as general manager.
Since then, Johnson has continued to make headlines due to his insistence on speaking fairly openly about the Lakers' future plans to bring the team back to prominence. That has been problematic at times because as the president of the Lakers, Magic can no longer just talk about other players on other teams as he once did, especially in reference to them potentially becoming Lakers.
The biggest example of this was when Johnson talked about Paul George on Jimmy Kimmel Live! and then had improper contact with George's agent, earning a $500,000 fine for the Lakers. Johnson has apparently not completely figured out what he can and cannot say with regards to the league's tampering rules, because on Tuesday the league announced he'd been slapped with a $50,000 fine for tampering after talking about Bucks' star Giannis Antetokounmpo in an interview.

The interview in question appears to be when Johnson spoke with ESPN's Nick Friedell about Antetokounmpo being a championship caliber player that would lead Milwaukee to a title one day. While innocuous enough, Magic apparently has to learn that no matter the subject he has to leave questions about other players alone, no matter the context. Expect a lot of "no comments" from Magic next time he gets asked about anyone not wearing the purple and gold.
Have you checked out the new DIME podcast?