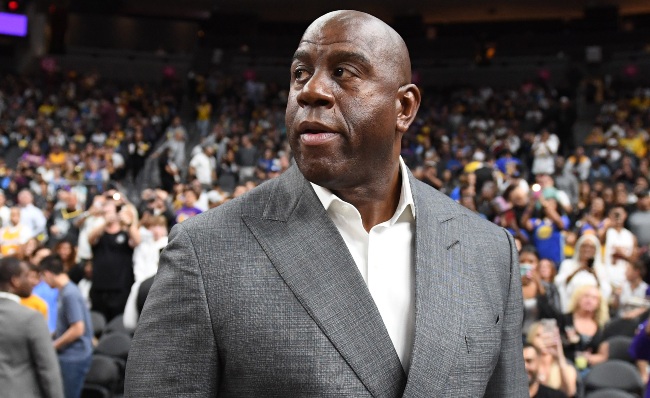 A seemingly less-than-ideal story to come out of Los Angeles this week revolved around LeBron James and Lakers head coach Luke Walton. There have been questions about Walton's ability to lead the Lakers going forward, and they popped up again to an extent when a scout said James ignored play calls from his coach, to the point that Walton now just lets him do what he wants.
Ultimately this isn't too huge of a deal because, well, if there is any basketball player on earth who can get away with running the show the way he wants, it's the guy who has the title of "the best basketball player alive." Plus, in a way, there is something admirable about Walton realizing this and handing the reigns over to James.
Still, it's a bit of a juicy talking point, one which does not sit well with Magic Johnson. The Lakers legend and president of basketball operations appeared on SiriusXM NBA Radio on Thursday, and at one point, he said this being a thing stems from a desire people have to talk about his team.

"This is all about making sure that they can say something on ESPN and everybody can just talk," Johnson said, per Kurt Helin of Pro Basketball Talk. "We have a system the ball moves around, a lot of pick-and-roll plays. If you watch us play, the ball is not in LeBron James' hands all of the time. It can't be. Because you want to pass it around, you want to get into your pick-and-roll plays. But hey, we're the Lakers, people are going to be talking about us. But that's not how it's going right now."
Johnson is right that there's always a spotlight on the Lakers and negative stories get magnified, because that's a thing that happens with a franchise of their stature. It's also something that goes down when James suits up for a team, so while this sort of thing is a bit of a nuisance to Johnson, it does kind of come with the territory.