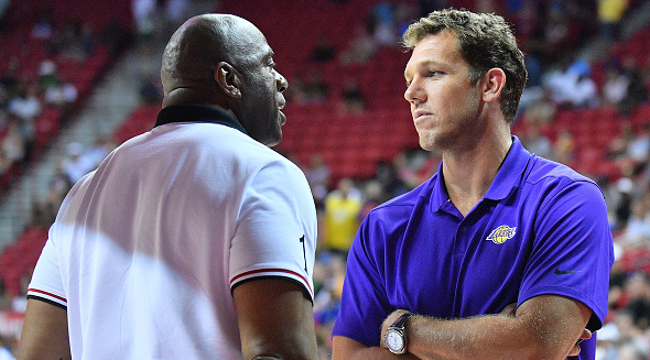 It didn't take long for all that talk about patient and growth surrounding this young Lakers team to go flying out the window. Like it or not, the expectations skyrocketed when LeBron James came to town. It was inevitable. In some ways, it's out of anybody's control. It's just the way of the world.
To be fair, it's not like any of this is unexpected. They Lakers are struggling in large part because they lack size and outside shooting. Their 3-5 start reflects those struggles. But now that the reality of it has set in, there's suddenly talk that we could be looking at a very different team come the trade deadline.
On Friday, head coach Luke Walton officially found himself on the hot seat. Adrian Wojnarowski of ESPN reported that team president Magic Johnson met with Walton this week and apparently put the pressure on him, in no uncertain terms, to right the ship. But now, we're getting a clearer picture of just what that interaction looked like, and it's not pretty, nor does it bode well for Walton's future with the franchise.
In fairness to Walton, it's an unenviable position, to say the least. Not only has he been handed a haphazardly assembled roster – much of which is Magic's doing – he's been positioned from the start to be the fall-guy for when things inevitably don't progress as smoothly as they want and the front office's collective patience runs dry much quicker than expected.