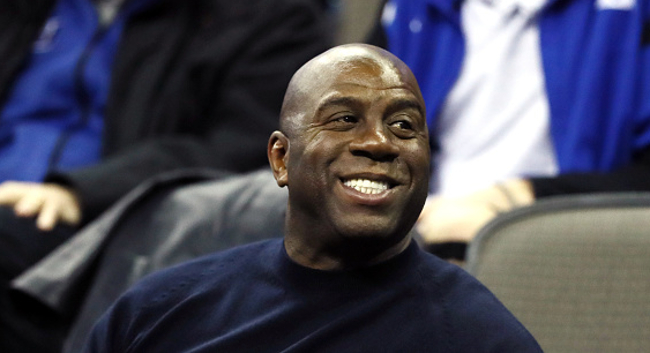 When Magic Johnson shockingly stepped down as president of the Los Angeles Lakers, part of his explanation was that he simply wanted to get these tweets off again. A couple of days later, he's wasted no time doing exactly that.
In a string of tweets sent out Friday morning, Johnson said working with Lakers owner Jeanie Buss was an "honor," and their stint in the front office together was a dream that her father, Jerry, had had for a very long time.
It is unclear whether Johnson has actually had a real-life conversation with Buss yet, as he revealed in his press conference announcing he'd be stepping down that he hadn't informed Buss yet because he didn't have the heart to tell her to her face.
After a handful of tweets congratulating the 2019 Naismith Basketball Hall of Fame inductees, including a special shoutout to former Laker Vlade Divac, who just cleaned house in Sacramento after one of their most successful seasons in recent memory, Johnson sent another tweet about general manager Rob Pelinka.
That wording is a far cry from the love and adoration he showed Buss, but it's still praise for the guy with whom Johnson apparently worked closest. The Lakers couldn't count on Johnson for much, but if there's one thing we know moving forward, the man is going to Tweet.