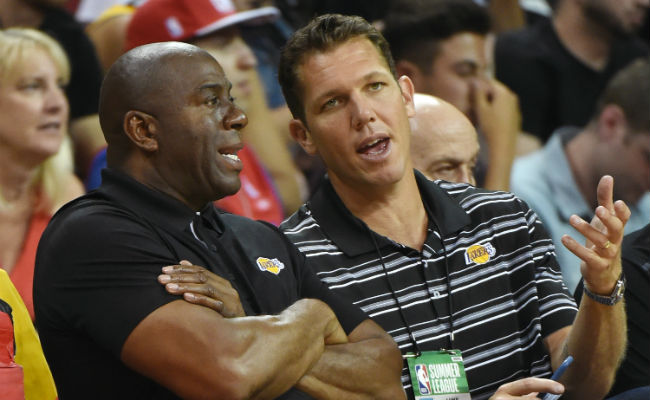 Amid all the chaos in recent days regarding LaVar Ball's comments about Luke Walton losing the Los Angeles Lakers, one member of the team's front office has been noticeably silent. While owner Jeanie Buss has used Twitter to support Walton, Lakers president of basketball operations Magic Johnson hasn't said anything regarding his head coach.
It's been kind of weird, because Johnson has enough clout that his full-throated support of Walton would send a message to everyone about the coach's job security. This especially became the case when reports surfaced on Friday of the Lakers eyeing former Grizzlies coach David Fizdale with the hopes of luring LeBron James to Los Angeles this offseason.
But at long last, Johnson issued something of a show of support for the team's head coach on Saturday afternoon. Johnson, as he is sometimes wont to do, took to Twitter and tweeted about Walton's job leading the team during its recent four-game winning streak.

Sure, Johnson's statement isn't as forceful as some of the tweets we've seen out of Buss, but it still sends something of a message that Walton is doing a good job in Los Angeles. Odds are it won't appease Ball or anything, but he has bigger issues to worry about right now than making sure Walton is unemployed as soon as possible.