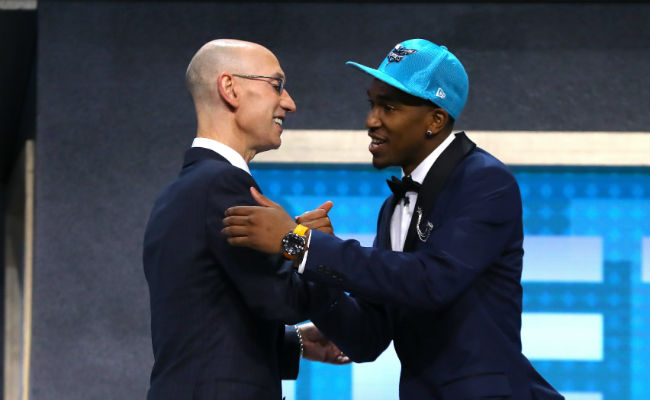 Malik Monk fell to the Charlotte Hornets in the 2017 NBA Draft on Thursday, but in his mind that slight slip on the draft board only sets up the perfect game of 1-on-1 for the Kentucky point guard.
Monk told the assembled media in Brooklyn that he could beat Hornets owner Michael Jordan in a game of 1-on-1 after he was taken by Charlotte with the 11th overall pick in the 2017 Draft.

Jordan is very much a part of that franchise's identity, and there's no question Monk respects that fact. He was asked about the impact having a guy like Jordan around will have on his game, and it's pretty clear he's excited to have him on board.
"I still can't believe it right now. I still can't believe it. Maybe tomorrow I'll believe it. But I think he'll teach me a lot and I'll take an even bigger step each year. Each year I'm going to try to learn as much as I can from him."
Monk isn't the first pick in the 2017 draft class to say he'd beat Jordan in a game of 1-on-1, as Lonzo Ball said he could do the same on Jimmy Kimmel Live! But Monk was also almost certainly joking, as indicated by the laughs that came from the Kentucky standout imagining playing his team owner.
Monk will join Dwight Howard on a new-look Hornets team next fall, and he quickly got the Howard stamp of approval.
No word on whether Dwight thinks he can beat Jordan as well, but I'm sure we'll find out sooner rather than later.