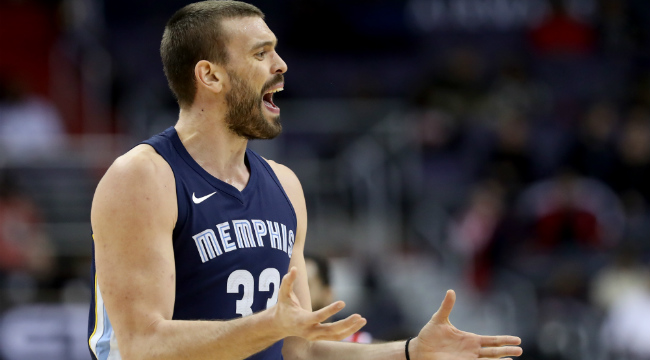 The Grit-N-Grind era in Memphis has slowly unraveled over the past several seasons, as age and injuries and a pendulum swing in hoops philosophy have taken their inevitable toll on an organization that, even in its halcyon days, was behind the curve in terms of where the NBA has been headed.
But at the start of the season, it looked very much like they might once again try to prove us all wrong as they sprinted out of the gates and, for a brief and glorious period, held the No. 1 seed in the Western Conference. It turns out that early success wasn't sustainable, and their decline since then has been a sharp one, to put it mildly.
They're now 1-11 in January and have won just four of their last 19 games. At 19-29, they're ahead of only the lowly Phoenix Suns for dead last in the conference standings. So it came as no surprise earlier this week when the organization announced that they would listen to trade offers as the February deadline quickly approaches.
Long-time franchise center Marc Gasol has remained professional throughout this ordeal, but his frustrations have started to bleed through, as evidenced by the recent comments he made to the media prior to their home game against the Kings Friday night. Via David Cobb of The Commercial Appeal:
"You guys can ask me all the questions you want to, and I'll answer them happily," Marc Gasol said Friday morning ahead of the Grizzlies game vs. the Kings at FedExForum in the evening. "But the guys that you should ask the questions to are upstairs and (those are) the guys that have more information, that know more that know what's going on and what's not."

***

"Me and Mike will answer all the questions that you ask, but we're going to give you all the same answers because we don't know anything else," Gasol said. "You guys might know more than we do."

"You guys are asking a lot of questions that I don't have the answers to," Gasol said. "The guys that know what's going on, it's not us."
Given his — and Mike Conley's — unwavering commitment to the Grizzlies and the city of Memphis throughout their entire careers, it's clear Gasol didn't imagine things would end this way. Naturally, there's bound to be disappointment and injured feelings if he believes they're being purposely kept in the dark about their futures.
Several teams figure to be active prior to the deadline, including the Lakers, Pelicans, and Celtics, just to name a few, so there are likely several possible outcomes to consider, but despite the tricky logistics involved, a lack of communication is only exacerbating an already difficult situation.