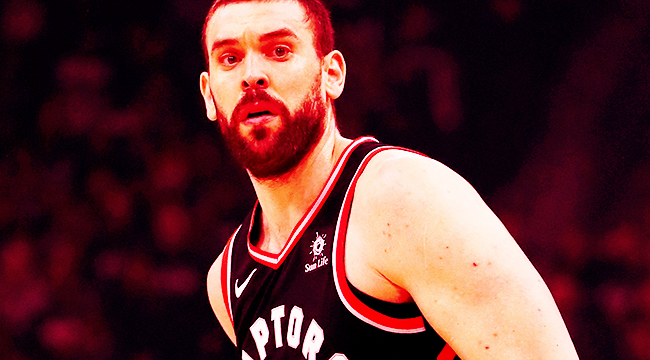 TORONTO — Experience was a major talking point heading into the 2019 NBA Finals. While the Toronto Raptors powered through the grueling Eastern Conference this postseason, there's a mystique that the Golden State Warriors possess. Winning two titles in a row and three of the last four has, understandably, led to them being the biggest dog in the yard, the kind of battle-tested squad that has played additional 100 games of basketball just in postseason contests over the last five seasons.
There's an inevitability that comes with playing Golden State in big games. Sure, you might lead, and maybe they look really, really bad, but at some point, the avalanche is coming, and when it does, your double-digit lead will dissipate in the blink of an eye. But sometimes, the cynicism that views something as inevitable can be erased by the naïveté that comes when you're in a new situation. Take, for instance, Marc Gasol, who was brilliant during the first NBA Finals game of his illustrious career.
Gasol is a grizzled veteran who has lost a step, but always finds a way to impact games despite the fact that he's no longer the All-NBA caliber performer he was at his peak. And under the brightest lights in which he's ever played during his NBA career, the big man came up bigger than he has at any point since the Raptors acquired him at the trade deadline en route to a 118-109 Game 1 win.

Between the regular season and playoffs, Thursday night was the 873rd time Gasol took the floor for an NBA game. It was the first time one of those took place in the Finals. A 16-year professional journey that included stops in Barcelona, Girona, and Memphis, along with a pair of Olympic silver medals, finally got to the biggest stage of them all, in a relatively new uniform, in the third country that he's called home, alongside a team largely made up of Finals newcomers, against one of the greatest collections of talent in league history. The opportunity to reflect and celebrate this occasion was there for everyone on the Raptors, but especially someone who has paid their dues and finally saw the universe align in their favor like Gasol.
He, in typical Marc Gasol fashion, did not care about this.
"My brain doesn't function that way," Gasol said after the game when asked about taking a moment to drink it all in. "You're out there, you're playing basketball like you did your whole life and it's the most fun. You lock in, not allow when they make a couple shots, tough shots or mistakes that you make defensively, kind of rattle you a little bit and frustrate you. You got to stay poised during the whole game. So your brain can't go anywhere else but every possession."
Instead, Gasol played every possession like someone looking to relish the opportunity to play on this stage for the first time. Big Spain was even more immense than his 20-point, seven-rebound evening might suggest, although he certainly made his presence felt in the ways that can be counted. He managed to get into a groove early, knocking down a pair of threes in the first quarter.

The two makes were sandwiched in between a miss from downtown — you can see in the above clip that his second made triple came after what can only be described as a lengthy internal dilemma over whether to shoot or not, as if he went through every single possible permutation of what could happen on the possession and ultimately decided the best option was to fire away.
"If you're open, you got to shoot them," Gasol said. "Dare, no dare, like, you are open, you shoot them. And then we go from there. If they go in, great. If not, you keep taking them with confidence."
Shooting is a skill Gasol has in his gigantic toolbox — he's connecting from deep at a 40.5 percent clip this postseason on a touch under four attempts per game — but it will never be a defining feature of his game. His ability to read a game is second to none. It's a major reason why he's managed to stay an elite defender throughout his career despite the fact that he's 34.
Brains do not age the way that, say, knees do. A basketball player can extend their career by years solely by possessing the ability to know exactly where to be at all times and how to leverage that to their advantage. While Gasol has managed to stay pretty healthy over the last few years, it's not hard to see how he's slowed down a tick. For example, the 24.9 minutes he played a night in Toronto during the regular season were, by far, the fewest of his career.
Gasol's still sharp as a tack, though, something he used to his advantage on both ends of the floor. Here's an example on offense — Steph Curry switched onto Gasol following a pick-and-roll with Fred VanVleet. While Curry is hardly the best defender in the league, he'll always try and generally knows what to do, leading to him preventing an entry pass when the ball gets swung over to Kyle Lowry.
He decides to use the fact that Curry is fronting him to his advantage. After directing traffic and pointing to VanVleet, who receives a pass from Lowry, Gasol uses Curry's eagerness against him and gets perfect position on the low block. The entry pass comes in, and Curry's goose is cooked.

Even beyond this, his spatial awareness and knowledge of where everything is happening on the floor is a major strength, and he's still a crisp, creative passer. Defensively, well, here's Raptors coach Nick Nurse saying everything I'd say.
"Well, he's a really good defender," Nurse said. "And a lot of that comes from … I always say a lot of it comes from desire to be a good defender and the want to stay on the court, right. But I think his IQ is really high, he knows how to get out there, and he's shown over the last few games, or maybe more than that, that he's pretty good when he gets a mismatch on a shooter."
Golden State is ruthless in its ability to find, target, and attack centers. It is exceedingly rare that a center can see minutes against the Warriors and not get played off the floor. Gasol is on the list of the handful of centers for whom this does not happen — he has an inherent understanding of cutting off angles when more fleet of foot players try to drive by him, he's great at closing out on jump shooters, and if you're a guard and you test him at the rim, you'll probably lose.
Or he can not get switched onto a guard, be surrounded by four players on the perimeter who fly around, and protect the rim, either by blocking a shot or using the fact that he's a large human to dramatically alter shots. He's a former Defensive Player of the Year for a reason, and even if he's not putting the clamps on opponents like he did during his halcyon days with the Grizzlies on a nightly basis, he can still get to that level.
If anything, Thursday night reminded basketball fans that when he's at his best, Gasol is still a brilliant two-way center who can win your team a game. We've seen this over and over during his career, and even if he doesn't want to admit it, there was something special about watching him play like a star with a championship on the line for the first time.