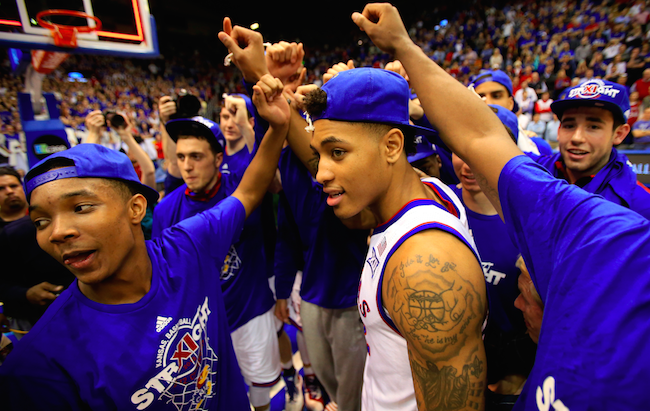 The first weekend of the NCAA tournament normally fails to majorly impact a prospect's stock one way or the other. The elite prospects tend to dominate — hello, Jahlil Okafor and Karl-Anthony Towns — while those whose stock has the potential to skyrocket only have two games under their belt — what could be a breakout tournament might only be a flash in the pan.
That being said, there were a few players whose stocks were affected by their (and their team's) performance after the first round.
Rising
RJ Hunter (Georgia State)
We talked about Hunter as an under the radar candidate before the start of the tournament, and after this past weekend, it's safe to say he's not under anyone's radar anymore. Hunter was already getting a lot of first round love before the draft (DraftExpress projects him to go in the late first round) but his games against Baylor and Xavier certainly didn't hurt his cause. Though he only scored 16 points against the Bears, he scored nine-straight points in the fourth quarter, hitting the game's (and one of the tournament's) biggest shots, when he pulled up from Steph Curry range and nailed the game-winning three-pointer. He couldn't quite follow up with those heroics against the Musketeers, but he did score an efficient 20 points while handing out 5 assists and grabbing four rebounds.
As much as his father/coach wants him to stay in school, it's unlikely Hunter's stock will ever be higher.
Falling
Jake Layman (Maryland)
Like Hunter, Layman was also another under the radar prospect before the tournament. Unlike Hunter, Layman never really produced. He was virtually nonexistent in the first game against Valparasio, and though he scored ten points against West Virginia, those points felt a lot like empty calories. Layman never seemed to put his imprint on either game. What would have really boosted Layman's stock, even with these pedestrian numbers, is a concerted effort on defense, or at least something better than this:
Unfortunately, Layman didn't even show that.
Kelly Oubre (Kansas) 
An up and down season ended on a down note for Oubre. He never got it going in the tournament, notching just 9 points and 5 rebounds against Wichita State and 8 points and 3 rebounds against New Mexico State. To be fair, Oubre at least did look aggressive — at times to the point where he was visibly forcing things — but that aggression never really amounted to any sort of flow for the talented freshman. NBA types probably won't sour on Oubre's performance too much, especially given his exponential improvement throughout the season, so it's probably better to say his stock is static, rather than falling.
Myles Turner (Texas) 
Turner, one of the more talented freshman in this year's class, had an underwhelming end to what probably will be his only year in school. At 6'11 and 240 pounds, Turner should have been able to produce more than two points against the much smaller Butler. Unfortunately, he was plagued by foul trouble the entire game, and wound up playing only 16 minutes (though he did manage to grab 10 rebounds in those limited minutes).
Turner's tournament won't outweigh his regular season, during which he averaged 10 points and six rebounds, but it would have been nice to see him go out with a bang rather than a whimper.