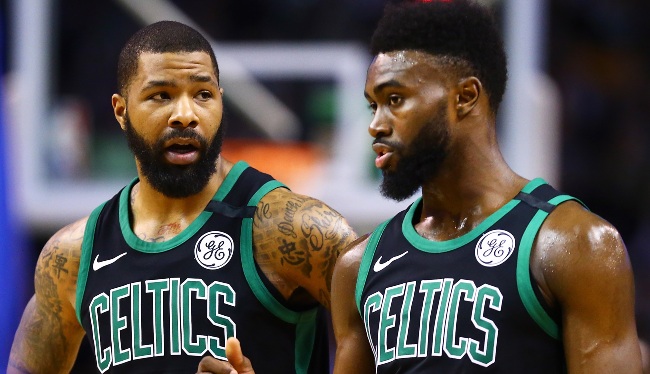 The Boston Celtics season continued on its Westworld-like loop of impressive wins followed by dismal losses when the team dropped a road game to the Brooklyn Nets by 14 points on Saturday. Playing without Kyrie Irving, the Celtics allowed Nets point guard D'Angelo Russell top drop 29 on them, with 20 of them coming in the third quarter as Russell went on a tear coming out of the locker room after halftime. Jayson Tatum scored just 9 points.
In the locker room after the game, a solemn Marcus Morris, replete with his pink hoodie pulled all the way over his head and continued to harp on how Russell's 3rd quarter cost them the game. As reporters tried to phrase their questions about the Celtics inconsistencies in different ways (what can you do better on defense? why didn't you take more 3s?), Morris returned again and again to Russell, until someone asked him what he and his team say to the criticisms that have been leveled against a Celtics team most people thought would be no. 1 in the East this season.
"We've been having criticism all year," Morris said. "It can't be no worse than what it is now. We just tell ourselves keep going. Everyone is going to doubt us because of the year we had, but when the playoffs hit, it's basically a new season. We're excited. Probably two years from now they'll do a 30 For 30 on this team."
Outside of being a pretty good basketball player, perhaps Morris can get into the film production business, because who wouldn't want a behind-the-scenes look at this winding Celtics season? More shots of Irving moping in the locker room. A vignette of Al Horford picking out the turtleneck he'll be wearing this evening. Guys hanging out with each other looking absolutely miserable. And maybe, if they can get it together in the postseason, a run at a championship. Sign me up immediately.