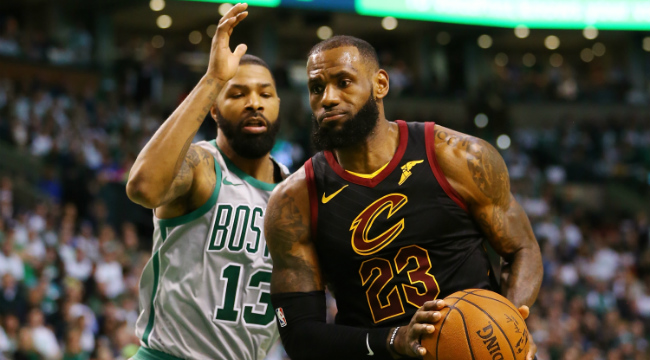 We have plenty of evidence that shows nothing good happens when NBA players say they think they know the secret to playing defense against LeBron James. Here, look at this.
This is not to say that there aren't guys who are able to guard James with some level of effectiveness, it is more to say that when people publicly say they think they are going to slow him down, James responds by going off. It's like publicly calling out the best basketball player in the world isn't a great idea, who knew?
Anyway, Celtics forward Marcus Morris spoke to the media on Saturday afternoon, one day before Boston and Cleveland face off with a spot in the NBA Finals on the line. Morris is one of the many wing defenders who will be tasked with slowing James down, and not only does he think he's up to the task, he went as far as to say he has exactly one peer when it comes to checking Cleveland's star.

Now obviously Morris isn't going to go "I am helpless against King James," but to go this far is quite the statement, even for the notoriously confident Celtic. It's not just because James seems to relish getting called out, but the numbers indicate Morris isn't exactly a LeBron Stopper™.
Boston's been on quite the run during the postseason and are playing some really great basketball right now. The team is going to throw a myriad of defenders on James, and while it remains to be seen if that strategy will work in slowing him down, Brad Stevens can take some solace in knowing he has someone in Morris who seems like he can't wait to check LeBron.