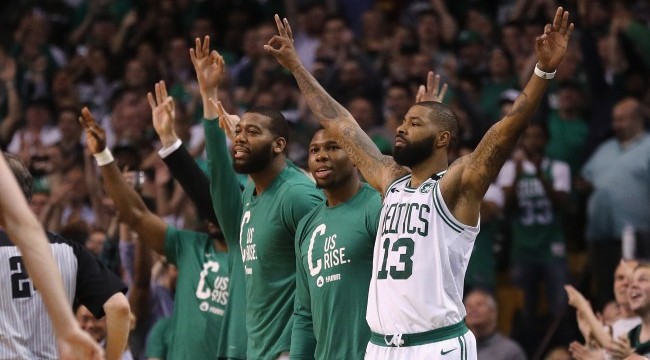 Are the Celtics in trouble? Right now it sure feels like it. On Saturday night, Boston suffered a 123-112 loss to the Clippers. This was only their second loss in a row, and previously they had won 10 of 11. Despite that run, everything feels just a bit off with the preseason favorite in the Eastern Conference.
Celtics forward Marcus Morris has noticed it too, and to him it has to do with the overall team attitude. This isn't a group of guys playing cohesively as one unit. This is a bunch of individuals that happen to be playing on the same basketball team, via Boston.com
"I watch all these other teams around the league and guys are up on the bench — they're jumping on the court, they're enjoying their teammates' success. They're enjoying everything, they're playing together, and they're playing to win. And when I look at us, I just see a bunch of individuals."
It's weird that Morris is making comments like this for a team that has generally been winning this season, but the Celtics expectations go beyond just winning. They want to compete for a championship. Sitting at fifth place in the Eastern Conference, the Celtics are not in great position to compete for a title. They're falling behind the rest of the East. An East that got even better during the trade deadline with everybody around them beefing up their rosters.
The Celtics, on the other hand, saw Kyrie Irving leave early on Saturday night with a right knee sprain. While the rest of the conference got stronger the Celtics got weaker. That isn't a comforting feeling. At some point Boston needs to make a run and solidify itself in the playoff race, but to do that it will need to rediscover itself.
"For us to be a championship team, man, this sh*t has to change," Morris said. "We have to genuinely want to win. That has to be the first goal. Whatever that takes, I'm with it. If they want to take me out of the starting lineup, get some juice in there, I'm with it. I'm trying to win."
Trying to win seems like a good first step.