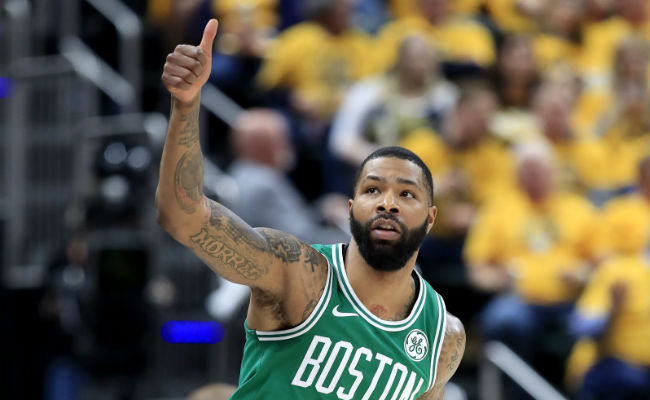 Kyrie Irving wasn't the only player to pack his bags and skip town on Boston this summer. The Celtics underwent a fairly significant roster overhaul, with All-Star point guard Kemba Walker coming in to replace the departed Irving, whose time with the team was marred by chemistry issues that would've baffled even the experts over at MIT.
In a somewhat lower-profile move, they also lost Al Horford, the team's defensive anchor and the type of versatile NBA big man capable of making a major impact on any team. Horford opted to join the Sixers in free agency, while Irving is teaming up with Kevin Durant in Brooklyn.
But the Celtics lost another solid frontcourt presence in Marcus Morris, who reportedly agreed to a two-year, $20 million deal with the Spurs last week. However, it now appears he might renege on that agreement in order to sign a more lucrative — albeit shorter — contract with the Knicks, according to ESPN's Adrian Wojnarowski and Yahoo's Chris Haynes.
https://twitter.com/wojespn/status/1148692976949846016
Earlier on Tuesday, Woj tweeted that the Knicks were renegotiating the deal they agreed to last week with Reggie Bullock, apparently due to unspecified health reasons.
Still, according to Yahoo Sports, San Antonio remains optimistic that the can get the deal done with Morris. The Knicks have once again had a rough go of it this offseason, striking out on all the marquee targets and compounding it with embarrassing revelations of their behind-the-scenes foibles. At this point, they're doing their best to fill out their remaining roster spots, and even that has proved challenging.