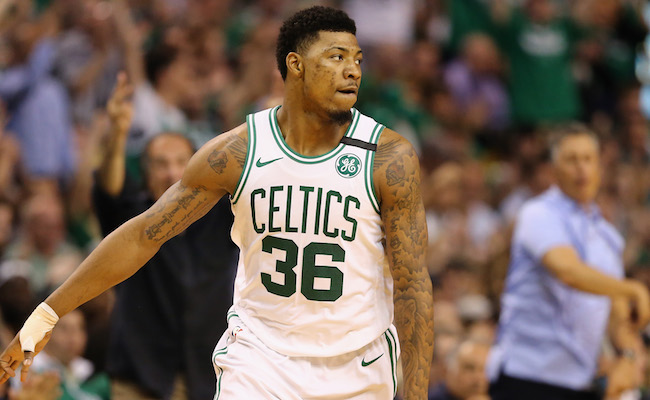 Restricted free agency is a strange process for many NBA players. With that said, Marcus Smart's situation was odd, even by that lofty standard. The talented guard from Oklahoma State has been an effective player in the league during his first four seasons, but his offensive challenges (namely in the area of shooting) make him a difficult player to evaluate, even as no one would question his defensive impact on the game.
Beyond that, the Boston Celtics are in the midst of an odd roster and salary cap situation, with Gordon Hayward and Kyrie Irving set to return to a team that will need to invest heavily in Jayson Tatum and Jaylen Brown in the near future. Finally, the Celtics have been famously enamored with Terry Rozier for some time and that only became more intriguing as the lead guard experienced a breakout during the 2018 postseason.
That confluence of factors led to a lot of uncertainty with Smart's market but, after a lengthy process, he reportedly elected to re-sign with the Celtics on a four-year deal worth $52 million.
Smart, who is just 24 years old, averaged 10.2 points, 4.8 assists and 3.5 rebounds per game last season, appearing in 54 games and playing 29.9 minutes per contest. As noted above, defense is certainly his calling card but there is also value in his ability as a secondary creator offensively and, at times, there has been (admittedly faint) hope in his jump shot developing a modicum of consistency in the future.
It is a safe bet that Smart's market value will be a point of contention moving forward but he is a valuable piece that happened to hit the market at a strange time, leaving plenty of arguments on all sides.