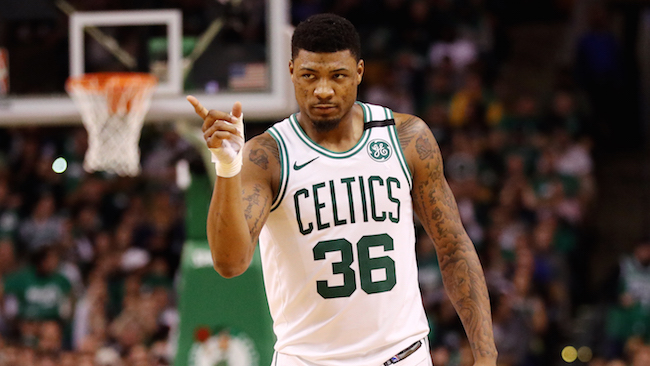 NBA free agency has slowed significantly after a very active first two days, with the last remaining free agents being role players and a few restricted free agents still seeking deals.
Clint Capela and Marcus Smart are the headliners remaining now that Zach LaVine and Aaron Gordon have each inked massive four-year deals. The question is whether Smart or Capela will be able to get similar major deals with fewer and fewer teams out there with significant cap space. Capela seems to be in limbo until the Rockets decide to make a move or until a team like the Hawks gets to a point this summer where they haven't used their cap space yet to absorb a salary dump and finally make an offer.
Smart, however, has gotten some real chatter of late, although the initial reported level of interest from the Kings seems to be a bit overstated. In any case, Smart is taking meetings while out in Las Vegas at NBA Summer League and hoping to find a deal, but how much he's seeking per year has apparently changed a bit. There was an assumption early on that Smart would be looking to find something in the $15 million-plus range on an annual basis, but with a market that's not been paying significant money his camp has possibly gotten a bit more realistic.

According to Adam Himmelsbach of the Boston Globe, Smart will now consider long-term offers for under $15 million per year, which could open up the market for him a bit more.
There have been conflicting reports about how much Smart and his camp are hoping for on the open market, but a source familiar with the negotiations said the guard is open to signing a multiyear deal for less than $15 million per season.
There are teams that make sense for Smart that have cap space, but it will be dependent on whether some of the non-competitors like the Kings, Hawks, and others will give him a big enough offer to make him want to sign on to a developing squad. Smart is the kind of player that can fit pretty well on most any roster given his defensive prowess, but he's not an efficient offensive player and most will feel he is what he is at this point, which keeps his value down just a bit.
The Celtics have plenty of reason to want to re-sign Smart, because he plays his role so well and isn't a player that needs the ball to make a positive impact. Smart and the Celtics have not had any real conversations about a new deal, as Himmelsbach notes, which is the most frustrating part of restricted free agency for the player involved. Teams are smart to let the market dictate a player's value, but when there isn't much out there it and it drags out it can make the player feel less than appreciated by their squad. That seems to be happening a bit with Smart, but it does still seem likely Boston will match an offer whenever it comes.