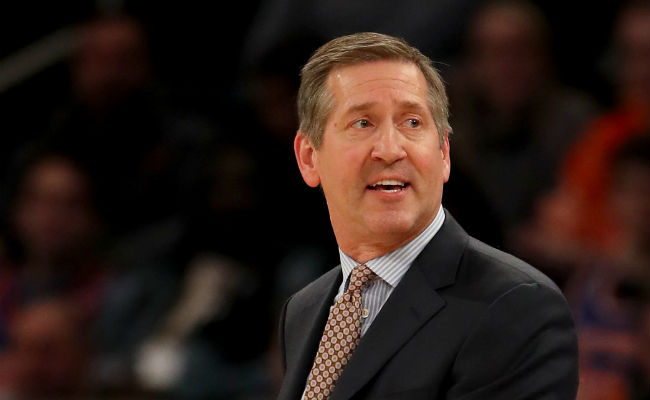 It's unclear if the New York Knicks will be exploring their options at head coach this offseason, but one report indicates if they do, they already might have their replacement picked out.
Frank Isola of the New York Daily News reported Thursday that sources indicated to him that the Knicks will look at Mark Jackson if they decide that Jeff Hornacek is not the man to lead the team going forward.
Though there isn't a clear indication that Hornacek is indeed on his way out, Isola said some NBA sources pointed to Jackson waiting in the wings should changes be made.
The Knicks are 20-25 right now and struggling to find consistency, though critics of making a coaching move just yet could certainly argue that it wasn't really fully Hornacek's team until the Knicks finally shook off Phil Jackson's presence over the summer. It was Jackson, remember, who was literally running Triangle Offense practices while Hornacek was the coach last season.
But Hornacek himself is said to understand that his time with the Knicks could be short if improvements are not made.
Hornacek knows how the game works. In theory, he was not hired by Mills or Perry and without a strong allegiance to the front office he is therefore vulnerable. Maybe that's why two coaches from different staffs told me they keep hearing Jackson's name floated out as a possible successor when and if the Knicks were to make a change. Even Doc Rivers' name is making the rounds even though he is under contract with the Los Angeles Clippers.

That speculation could be based on nothing more than the Knicks' history of hiring and firing head coaches the way the current White House administration discards staff members. But it's out there.
It's tough to know what this speculation is worth given we don't know how the Knicks will do in the second half of the season, but the message is clear: The next few months for the Knicks are not simply a team on autopilot. What happens on the court will almost certainly impact who is running things in New York in the future.