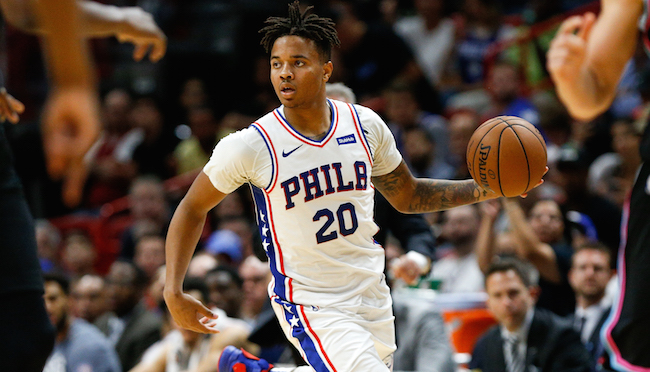 The latest chapter in the Markelle Fultz saga started a few weeks ago, as his agent/attorney announced that the Philadelphia 76ers guard would be sidelined. During that time, Fultz would meet with specialists in New York City to figure out exactly what's going on, as it was obvious that his ability to shoot the basketball just wasn't there.
Which raised the question: What on earth is going on with Markelle Fultz now? Plenty of people wondered if it was something like the yips, while the Sixers were blindsided with his agent's implication that something was physically wrong to the point that he needed to leave the team and get examined by specialists.
On Tuesday, we finally learned the latest diagnosis, and if you know any Sixers fans, prepare for them to become an expert in what Thoracic Outlet Syndrome is. That's because Fultz's agent, Raymond Brothers, told Adrian Wojnarowski of ESPN that's what's bothering the second-year guard.

Soon after, Shams Charania of The Athletic reported that Fultz will likely miss weeks as he begins physical therapy. The Sixers confirmed that PT is on the horizon, but said Fultz is out indefinitely.
Wojnarowski, meanwhile, reports that there's optimism this won't hold Fultz out too long.
At this point, hopefully this is, indeed, the correct diagnosis. All that matters is that Fultz is able to overcome whatever this is and get close to the level that made him the no-doubt No. 1 pick in the 2017 NBA Draft. It's taken a long time to identify Thoracic Outlet Syndrome as the culprit, and if it is, perhaps everyone with a stake in his future can finally see a light at the end of the tunnel.