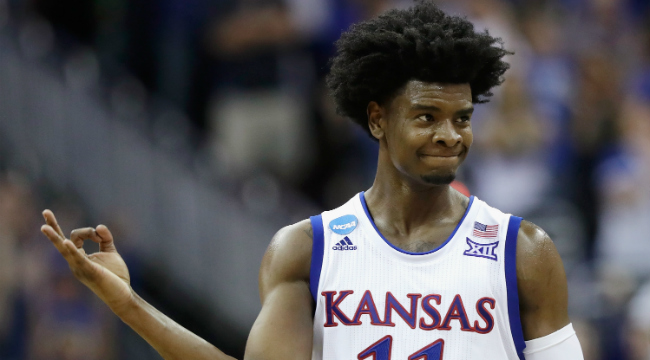 The best prospect in the 2017 NBA Draft in the eyes of many is Washington guard Markelle Fultz. A tall, dynamic guard who can score and set up his teammates, Fultz is the kind of player who can anchor a team's backcourt for the next decade if everything pans out. In a draft that could end up being really good, Fultz has the potential to be its best player.
That's why the Philadelphia 76ers went out and acquired the No. 1 overall pick from the Boston Celtics in a deal that may have been kind of one-sided. Fultz is a great fit in Philadelphia and could end up being part of a really special core for the Sixers.
But for one prospect in the draft, Fultz isn't as good as people think. Kansas forward Josh Jackson — who in his own right has the potential to be a really great pro — tweeted and quickly deleted this after the trade went down.

Jackson is seemingly alluding to the fact that Fultz is able to put up big numbers on bad teams. During his one year in college, Fultz was tremendous, averaging 23.2 points, 5.7 assists, 5.2 rebounds, 1.6 steals, and 1.2 blocks per game for the Huskies. But the team was really bad, going 9-22 on the year, which was the third-fewest wins among Power 5 programs in the nation.
Jackson, meanwhile, was one of the stars on a Kansas team that went 31-5, won the Big XII, and made it to the Elite 8. If you believe that winning games is an important part of a potential No. 1 overall pick's résumé, then yes, you can question why Fultz was on such a bad team during his one year in college.
But all that matters is what the team at the top of the draft thinks, and apparently, Philadelphia doesn't have those concerns.