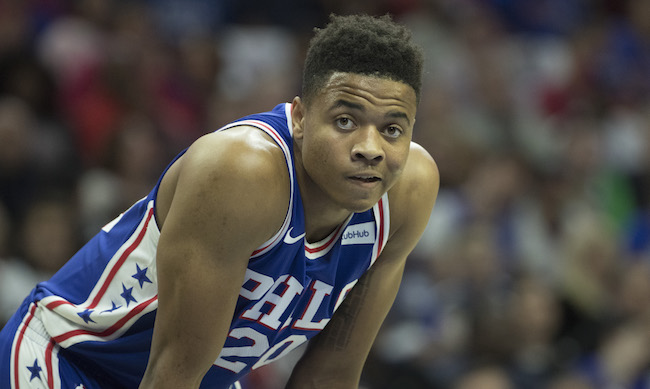 One of the stranger storylines early in this NBA season has been Sixers rookie and top overall pick from the 2017 NBA Draft Markelle Fultz's shoulder injury. Fultz played the first four games of the season in Philadelphia, but there was something clearly wrong with his right shoulder as he had completely changed his shooting stroke from the free throw line and was refusing to shoot perimeter jumpers.
The Sixers finally shut Fultz down a week ago, noting that while there was nothing structurally wrong with his shoulder, he would be reevaluated in three weeks. This seemed like the end of a strange and unfortunate saga, and Philly has moved on, ripping off four straight wins without Fultz — which one would point to as an indication that they can succeed while letting their young point guard get fully healthy so he can contribute and actually help.
However, on Monday, some tweets from reporters at Sixers practice raised eyebrows, as many reported seeing Fultz working on drills on the far court at the practice facility, and he was shooting jumpers left-handed.
There's even a video of him hoisting a three-pointer with his left hand. It doesn't go especially well (although it looks an awful lot better than an average human's shot would look with their off hand).
This wasn't a one-off joking shot, as Kyle Neubeck noted every shot he was taking was with his left hand.

Fultz is likely under doctor's orders not to shoot right handed until his shoulder has had some time to rest and heal, but to keep him in shape, the Sixers have him running drills and doing on-court work. This is understandable. However, it's a bit confusing that he'd be launching shots left-handed in those drills rather than just working on sets and getting where he's supposed to be without the payoff of a shot. Brett Brown insists everything is fine and Fultz shooting left-handed is fine.
Perhaps that's awkward and doesn't feel like real basketball to go through plays and not finish with a shot, but I'd have to think shooting left-handed would also feel awkward. That said, this seems relatively harmless, or, at the least, far less harmful than having him keep playing and altering his shooting form to alleviate the pain in his shoulder. Still, it's fairly bizarre, especially considering Ben Simmons is the player on the Sixers most think is shooting with the wrong hand, not Fultz.