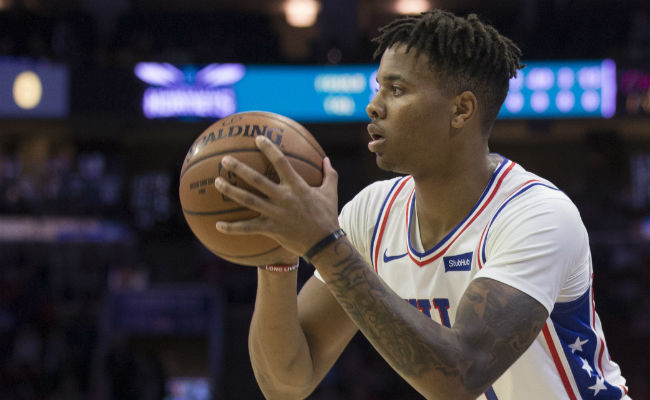 Markelle Fultz was just trying to have a nice Thanksgiving like the rest of us when Amari Cooper came along and mimicked his free throw style in a Thanksgiving day football game on Thursday. But despite the fact that it could have been taken as Cooper poking fun at his uncomfortable-looking shot, Fultz seems pretty thrilled to be included in the annual NFL tradition.
Cooper's first touchdown on Thursday was the time to bust out the impression, which could be seen as a slight considering, well, how unprofessional that style looks. But wherever Fultz was enjoying his Thanksgiving, he was loving Cooper giving him a shout out. Fultz retweeted the video of Cooper's celebration, then went to his Instagram profile to post a reaction to it himself.
The video shows a TV showing the replay of Cooper pretending to shoot like Fultz by batting the ball between his hands and then heaving it through the uprights.
"Yo he can't do this," Fultz says, laughing as the replay shows Cooper and the Cowboys line up at the foul line. You can hear people laughing at the shot in the background, then Fultz changes the camera to face him and gives a gleeful fist pump.
It's really cool that Fultz is honored by Cooper rather than offended, as the Sixers sophomore has had a bit of a rough go of things when it comes to shooting. His injury seems to be lingering and has clearly impacted what he's capable of on the court, but he says he's sticking with his wonky style at the foul line for now.
Cooper's impression may be done with love more than malice, and Fultz certainly seems honored. Just some mutual respect between athletes here, it seems.