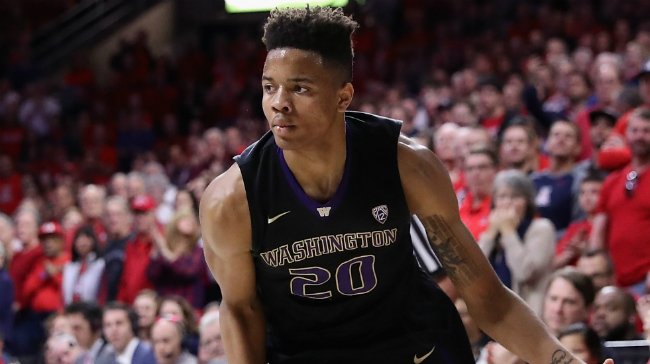 Markelle Fultz is heading to Philly. According to David Aldridge of NBA.com, the rumored deal between the Philadelphia 76ers and Boston Celtics is all but finalized, as the two teams came to terms on a trade that will send the No. 1 pick in the 2017 NBA Draft to Philly. The deal will reportedly be finalized on Monday.

The report was confirmed by Adrian Wojnarowski of The Vertical, who said the trade was contingent on Philadelphia working out and meeting with the dynamic guard out of the University of Washington. Fultz did just that on Saturday evening.
Wojnarowski also reported that this deal has been agreed upon for the last day.

This is a monumental deal at the top of the Draft, as this clears the path for Philly to add Fultz to its already intriguing core of Joel Embiid, Dario Saric, and Ben Simmons. As for Boston, we don't quite know what they're going to get back in the deal, but Wojnarowski reported earlier in the day that they were in line to get three picks from Philadelphia: the No. 3 pick this year, the Los Angeles Lakers' pick in 2018, and a future first rounder that may have some kind of protections.
Whether Boston takes a potential cornerstone like Josh Jackson or moves whatever they get back in an attempt to win now remains to be seen, but they now have the flexibility to do something else if Danny Ainge wants. While their future is somewhat up in the air, we know one thing is almost certain: Markelle Fultz is going to be a member of the Philadelphia 76ers.