There's something so exciting about potential, isn't there? Known commodities are good, but getting to speculate about what someone can become is, in most cases, so much more fun. That's doubly true when what you are is so far from what you can become, and that's exponentially more true when the conversation revolves around Markelle Fultz.
It can be hard to remember that there was a time when Fultz was as dynamic of a guard prospect to come into the NBA in years. During his one year at the University of Washington, Fultz blended spectacular athleticism with explosive scoring and an ability to create in such a way that made him stand out despite a 9-22 record in Seattle. It was a gigantic deal when the Philadelphia 76ers cashed in on some parts of their vast war chest of assets to move up to No. 1 in the 2017 NBA Draft to pick him, believing he'd be the missing piece alongside Joel Embiid and Ben Simmons to bring the Sixers to another level.
And then, the games started. Fultz, who hit a touch under 65 percent of his free throws in college, worked on altering his shooting form during the offseason leading up to his rookie campaign. For reasons that only Fultz really knows, this led to the inability to shoot at all, which, coupled with a recurring shoulder injury, led to him not being able to play basketball altogether. A career so full of promise — ESPN's Jay Bilas called him "essentially a James Harden clone on the offensive end" on draft night — resulted in 33 games in a year and a half with the Sixers before getting flipped to the Orlando Magic for a pair of picks and journeyman forward Jonathon Simmons, who is no longer in Philly after appearing in seven playoff games for the team and recording its worst Box Plus/Minus.
Fultz didn't play in Orlando at all during the 2018-19 campaign. The team decided to let him work on whatever he needed to work on, and while the Magic made a run to the postseason that ended with them losing to the Toronto Raptors in five games in the first round, Fultz had his eyes on this upcoming season.
When Oct. 23 rolls around, it stands to reason that Fultz will take the floor in an Orlando Magic uniform. Because we're still in the offseason, that means the offseason hype machine is in full effect. The stuff that comes out of every franchise during the preseason exists in Orlando, but with Fultz, things are taken to a different level.
The hype around Fultz started much earlier than this week, though, as Denton reported the team believes he is in line to serve as the team's backup point guard and let Michael Carter-Williams serve as someone who can check twos and threes.
All of this is to say that Orlando seems like it has rather high hopes for Fultz, who might hold the distinction of being the oldest 21-year-old in basketball history. The good news is that, even if Fultz has gone through the wringer during his first two years as a pro, those high hopes come in a situation where things are falling into place quite nicely for him.
The biggest issue that Fultz ultimately had in Philadelphia was that he did not fit in with the Sixers' timeline. When he was drafted, it was with the anticipation that he could have played a major role in turning Philly into championship contenders in the near future. In his second year, the need to be able to contribute was amplified by the team's decision to acquire Jimmy Butler and Tobias Harris, going all-in on winning a title during the 2018 postseason and potentially coming one Embiid illness and one miracle shot by Kawhi Leonard away from achieving that goal.
At no point was Fultz in a position to help the Sixers achieve this goal, and at no point was Philly able to give him all the time he needed to get right. As such, a much-needed breakup occurred. Orlando is in a different situation. They're a solid team with playoff hopes, but not one that has reasonable championship aspirations right now. The Magic are also in a unique position in that could (and still can) afford to take on a reclamation project like Fultz, even though their first round pick from the 2019 NBA Draft, Chuma Okeke, is using this year to redshirt.
While it required a Herculean effort during the second half of the year, Orlando managed to get into the postseason with a 42-40 record. Amid all the chaos that occurred in the Eastern Conference this offseason, the Magic decided to run it back. Free agents Nikola Vucevic, Khem Birch, and Terrence Ross agreed to new deals with the team, and outside of landing former Blazers forward Al-Farouq Aminu, they didn't make waves on the outside free agent market. The wager is that those moves, along with a healthy sophomore campaign for Mo Bamba and growth from guys like Aaron Gordon and Jonathan Isaac, will be enough for the Magic to be competitive once again.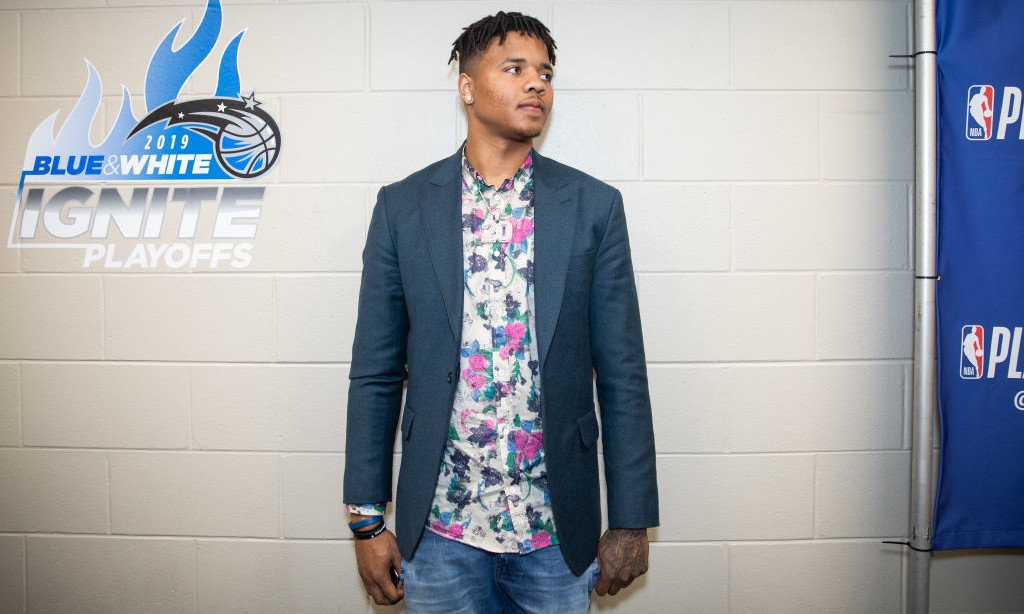 That means the team's success or failure will be tied to a bunch of players who are not Markelle Fultz. Add in that the team's point guard is the perpetually steady D.J. Augustin and Fultz has the luxury of time to figure out whatever he needs to figure out. He can, theoretically, make mistakes and use them as a chance to grow, rather than have them weigh on him due to the pressures that came from his situation in Philly as a No. 1 pick on a team that wanted to compete for a title as soon as possible.
Expecting Fultz to play like a former can't-miss No. 1 overall pick is a bit much. That might only be the case for this season, or it might be the case for the remainder of his basketball career, however long that may be. What is a realistic expectation for him over the course of this season, though, is to use his role as Orlando's backup point guard to figure out what exactly he is as a basketball player. If the Magic end up being a contender in the East, it'll come sometime in the next few years, when the younger players who make up their core become closer to being finished pieces and their veteran stalwarts are still around, even if they're older and a possibly touch less effective.
It also helps that, like in Philly, the best version of Fultz would be coveted in Orlando. In what seems to be a yearly theme, the Magic's roster is composed of a collection of springy athletes, tenacious defenders, and a clever big man in Vucevic. There isn't a gigantic lack of shooting and creation, but they can certainly stand to improve in both areas, and if he really is at a point where his body is right, Fultz should be able to give them a boost in both of these regards. If he can't do this, oh well, the reward absolutely outweighs the risk for the Magic at this point, even if he's slated to make a little more than $12 million during the 2020-21 season, which serves as the final year on his rookie deal.
Writing off Fultz as a bust right now is not only easy, it's hard to make the argument that he's been anything but up to this point in his career. However, he's been given a new lease on life in the NBA, and he finds himself in a situation where things appear to be set up so he can turn his career around. Perhaps this won't work out, either, but it's possible Fultz will be able to tap into the potential that made him such an exciting player a mere two years ago and produce magic in Orlando.