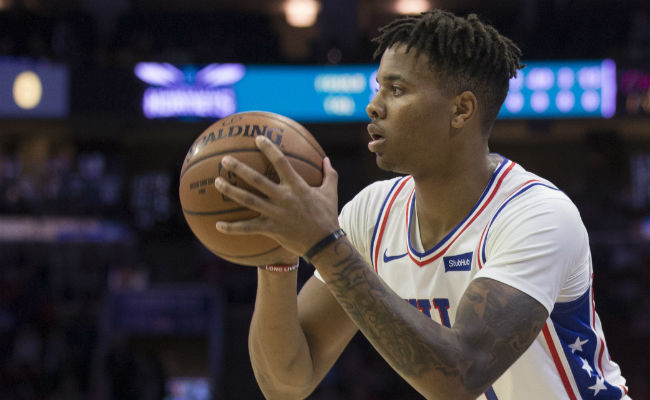 Markelle Fultz is meeting with various specialists over the next week to figure out what's going on with his shoulder and wrist, as he continues to struggle with his shooting form and is apparently still battling various physical ailments. The Sixers don't seem to really know what's going on with the 2017 No. 1 overall pick, but it's becoming more and more clear that the two sides seem destined to eventually part ways.
Fultz has been battling the Sixers over his health for almost his entire tenure in Philadelphia now, as last year there were tensions over whether he was healthy enough to return for months, with the Sixers offering updates and timetables that regularly had to be pushed back. There were whispers about the yips, which Fultz's camp has, unsurprisingly, vehemently denied being the problem. Everything has just been very strange.
With Jimmy Butler being added to the mix in Philly, many have suggested it's time for Fultz and the Sixers to split for the betterment of both parties and Philadelphia is at least considering that possibility. The thought is Fultz needs to be in a place that has a timeline more conducive to his development, while the Sixers need players that can help them compete right now. There are two main problems for the possibility of trading Fultz.

One is, his value is extremely low right now. The Sixers would be hard pressed to get a valuable draft pick or quality player in the immediate for Fultz in a trade, because of the questions about his shot and health. The second part goes hand in hand with that, as Keith Pompey of Philly.com reports teams want the truth about what is and isn't the problem with Fultz before they engage in trade talks.
Markelle Fultz's trade value has dwindled, but there is a market for him — under a certain condition. He and his representatives need to be truthful, a league source says.

In other words, potential 76ers trade partners don't want Fultz saying that his right shoulder and wrist are bothering him if he actually has a mental block that's hindering his shooting, the source said.
According to Pompey, the Cavaliers had discussions with the Sixers about a Kyle Korver trade that involved Fultz before agreeing to a deal with Utah, while Phoenix has also poked around about Fultz's availability. However, those teams and any others are wise to ask the pertinent questions and want a real answer when it comes to exactly what is wrong with Fultz.
That may be part of the impetus for Fultz to see specialists and get second and third opinions on his apparent shoulder and wrist issues. Teams want to know if the issue is simply lingering injuries — and the severity of those and ability to recover fully from them — or if Fultz is dealing with a mental block that is much tougher to figure out a solid timetable on trying to get past. Hopefully his visits to doctors this week can bring some resolution to this question, so Fultz can begin to address whatever the actual problems are.